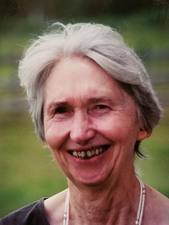 Delores "Dee" Sutphin Fray
September 22, 1929 - July 25, 2021
Delores Sutphin Fray, "Dee", 91, of Willis, Passed away on July 25, 2021. She was born September 22, 1929, to the late Dewitte Tyson, and Ida Sutphin. Delores was a graduate of Radford Women's College, now Radford University. She was a mathematics major where she went on to do her graduate studies at Baylor and UVA. After college, she went on to work in the Langley Airforce Base and the Edwards Airforce Base In California in the early 1950s. She then went to be a Systems analyst at the NSAF Pentagon until she retired and moved back to Willis, VA. Dee loved children and she invested in their educations. She doted on her nieces, nephews, and cousins. She was an avid bird watcher and gardener. She was a historian and her wealth of knowledge of the Mt. Hebron Church & School, The Buffalo Mt. neighborhood, Burks Fork Communities, and the Adams Branch neighborhood, was immeasurable, and we thank her for preserving that history. Dee was preceded in death by her husband, William Bruce Fray; sister, Peggy Sutphin Terrell; brother-in-law, William Hassell Vass; and nephew, Doug Roller. She is survived by her sister, Mava Sutphin Vass; sister-in-law, Nelson Fray Haskell, brother-in-law, William Dabney Terrell IV; nieces and nephews, Ann Terrell Christian (Lawrence "Chris"), William Dabney Terrell V (Nancy), Elizabeth Foster Terrell, Charles DeWitte Terrell, Timothy Westmoreland Terrell (Kimberly), David Roller, Katherine Roller; grandnieces, Rachel Amanda Katherine Christian, Sydney Chambers Christian Pratt (Cole); neighbors and cousins, Perry and Becky Price, Abigale Price Poff, Benjamin Price, Kayla Harris, Joyce Sutphin Price; along with animals, Augustus "Gus" (dog), Blue Eyes (cat), and Lilly (Dog). A funeral service will be held on Saturday, July 31, 2021, at 11 am, at Gardner Funeral Home. Interment will follow in Mt. Hebron Church Cemetery. The family will receive friends Friday, July 30, 2021, at Gardner Funeral Home from 6PM-8PM.
---
Guest book
Lee Anderson
Pasadena, MD
July 27, 2021
Sending my deepest condolences and lots of love to Ann, Chris, Amanda and Sydney during this difficult time. Aunt Dee was a remarkable woman. I know that all of you were Aunt Dee's primary caregivers for many, many years. Your kindness, care and compassion should be an example for all. Love and light. May your fondest memories carry through these days and may you lean on all who love you. Xo
---
Dr. Darlene Vaughn
Woodlawn, A
July 28, 2021
Miss Mava and family, May Creator wrap you in beautiful memories to ease your loss. Her long life of service, well lived away and at home, a loss to many. Loss of a wonderful example of success through courage, as an Appalachian, and truly as an Appalachian woman. Many prayers for you! Stay Blessed!
---
Alice Watkins
Galax
August 06, 2021
I just became aware of Dee's passing. I have so many fond memories of her during my childhood. There are no words to express my appreciation for the wonderful booklets she shared of the history and photos of our families. My heart is saddened for our loss but I am grateful for the time I spent with her.
---
Sign the Guest Book for Delores "Dee" Sutphin Fray