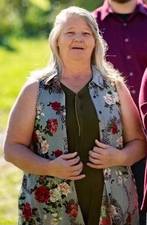 Robin L Martin
August 02, 1964 - August 02, 2021
Robin L. Martin, 57, of Floyd, went to be home with the Lord on August 2, 2021. She was survived by her husband of 32 years, Scott T Martin; three children, Matthew S. Martin (Sasha), Peter T. Martin (Alexandra), Sarah Lancianese (Mike); grandchildren, Micah, Chloe, Remy, Kai, Killian; along with many extended family and friends. A private memorial service will be held at a later date.
---
Guest book
Dona Bresock
Roanoke Va
August 03, 2021
Wow, So SORRY For your loss!! A few years ago my job had me calling on the store she worked at. She was such a special person! Wasn't long before she would shout out to me while working my other stops. She Loved her Husband, the "Yankee Russian", who would also shout out!! She would always chat about her Kids An Grandkids!! And I always felt the love!! We might have grown apart there is always a place in my heart for her!!
---
Robyn M. Martin
Taunton, MA
August 04, 2021
Scott and family: I was so sorry to hear about Robin. My prayers are with you at this time.
---
Alicia Simmons
Kaysville, UT
August 05, 2021
I'm so sorry for your loss Matthew, Sarah and Peter. I have such great memories of your mom! I love you Aunt Robin, and I wish you all comfort during this difficult time.
---
Earnest McPeak
Collinsville
August 05, 2021
---
Jimmy Handy
Stuart
August 05, 2021
---
Peggy Dewald-Link
Check
August 05, 2021
Robin was a good friend. We spent lots of time talking about football the Steelers (me) and Patriots, current events and family. It was always evident that she loved her family, children and grandchildren. She will be missed.
---
Nichol Hottle
Chambersburg Pa
August 07, 2021
You will be missed. I hope you fly high with my mom and the rest of your family. They will be waiting on you with open arms.
---
Saira Akers
Floyd ,Va
August 08, 2021
---
Sign the Guest Book for Robin L Martin