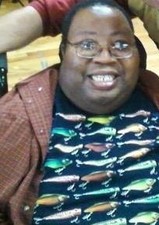 Cecil Whetstone Jr.
September 06, 1969 - October 09, 2021
On October 09, 2021, Cecil Whetstone Jr. (fondly referred to as J.R.) took his Savior's hand and passed from mortality to immortality. He was born in Roanoke, Virginia on September 6, 1969, to Cecil and Flora Whetstone. He graduated from David Brearley Middle and High School in Madison Heights, NJ. He was a member of Little River Missionary Baptist Church in Floyd, Virginia. He was also a member of The Traumatic Brain Injury Society and Workshop. He enjoyed movies and wrestling on the local and national level. He loved working on his computer. He had an app called Cityscapes where he built his ideal city it contained waterfalls, green grass and ducks floating on the ponds. JR loved his nieces, and when they became old enough to drive, they were his chauffeur to pick up his favorite foods. He had a special effect on everyone who met him due to his big smile, gentle soul and huge heart. One of his favorite hobbies was listening to country music, especially, Hank Williams Jr. He is preceded in death by his grandparents Randolph and Mace Via, his father Cecil Whetstone, stepfather James Murray, and brother Kenneth LeRoy Via. He leaves behind to mourn his loss those who love him: mother Flora Murray, sisters Charlotte (James) Scott, Gwendolyn Via, Mary Via and his brother Wise Allah. He will be greatly missed by his uncle James Via and aunt Elsie (Grant) Helms and a special aunt Mary Webb, who loved him dearly. He also leaves behind two nieces Kenisha Via and her son, and Ashanti (Dennis) Freeman and their daughter. A nephew, Antwon Strange and his children Donya, Ashia ,and Zhakari. A graveside service will be held on Friday October 15, 2021 at 11AM at Little River Missionary Baptist Church Family Cemetery.
---
Guest book
Marie Mayes
Floyd, VA
October 14, 2021
I'm sorry for your loss, Jr. you will be greatly missed. Love, Marie Mayes
---
Brown/Daniels Family
Jonesborough, TN
October 14, 2021
Precious Charlotte, We are so sad to hear of your brothers passing. Prayers are being lifted over you and your family. May the Lord Jesus cover you with His peace and comfort at the difficult time! We love you and our hearts are with you. Your Jonesborough Family
---
Sandra Helms & Danny Stuart

October 14, 2021
Sorry for the loss of JR. Our condolences are with the family at this difficult time.
---
Janice Stuart Brown
Greensboro, North Carolina
October 19, 2021
To the family: I am so very sorry for your loss. Prayers for the family.
---
Sign the Guest Book for Cecil Whetstone Jr.