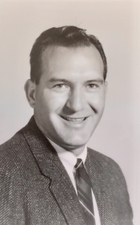 Bobby Reginald "Reggie" Clark
January 14, 1934 - October 21, 2021
Bobby Reginald "Reggie" Clark, age 87, of Copper Hill, Virginia, passed peacefully from this earth on October 21, 2021. He was born in the mountains of Avery County, NC, to Lester and Owana Vance Clark on January 14, 1934. He was preceded in death by his parents, along with brothers, Steve and Gary, sister, Vivien Phillips, son, David King, daughter, Carolyn Kidd, and grandson Earl Kidd. He is survived by his faithful and loving wife of 61 years, Mary. Also surviving are his son, Bobby (Vanessa) Clark, Jr., daughter-in-law, Annette King, brother, Douglas (Jane) Clark, sister, Owana (Chalmer) Lynn, sister-in-law, Amy Clark, five grandchildren, Stacie (Roger) Cole, Chad (Kay) King, Jessie (Jamie) Warren, Dr. Jordan Hylton (David) Risden, Mitch Clark (Mary Sarah Gross), six great grandchildren, Callie Eanes, JD King, Emma King, Jaxon Warren, Asa Warren, Avalyn Clark, special and loyal friends, Rodolfo Sanches and Jose Araiza, and numerous nieces and nephews. After serving in the military, Reggie came to Floyd County to teach at Check High School in 1958. It was there that he met his future bride serving in the lunch line. He later had stints teaching at Hillsville High School, Lee and Stonewall Jackson Junior High schools, and Check Elementary School. In the mid 1970's Reggie started Clark's Hilltop Nursery. Since that time, hundreds of thousands of his Fraser Fir Christmas trees have graced homes during the holiday season. Reggie took great pride in being a founding member of both Great Oaks Country Club and Floyd County Recreation Department. An avid golfer (he recorded 23 hole-in-ones), Reggie won many local and state events, including the Roanoke Valley Senior Amateur, and then the Virginia State Golf Association Super Senior title. Funeral arrangements are being held at Gardner Funeral Home in Floyd. Visitation is scheduled for Tuesday, October 26, 2021, from 5-7pm at Gardner Funeral Home, with the funeral services on Wednesday October 27, 2021, at 11am, at Stonewall United Methodist Church. Interment will follow in Stonewall Cemetery. In lieu of flowers, the family request that donations be made to the America Diabetes Association or the America Kidney Foundation.
---
Guest book
John and Deborah Carter
Floyd, VA
October 23, 2021
Bobby, Vanessa and family, we are so sorry for your loss. We will keep you and your family in our prayers.
---
Barbara Lowe
Elk Park, NC
October 24, 2021
I am truly sorry for your loss. I will keep your family in my thoughts and prayers throughout the coming days.
---
Sondra Taylor
Pineola
October 25, 2021
I love you all and I'm praying
---
Shirley & Doug Phillips
Indian Valley, VA
October 25, 2021
Mary, Bobby, Vanessa & Family, We were so sorry to hear that Reggie had passed away. We always thought a lot of him. You all are in our thoughts & prayers, With Sympathy, Doug & Shirley
---
Gerry and Sandra Shank
Floyd, va
October 26, 2021
Our thoughts and prayers are ongoing for your family, Mary. We are so sorry for your loss. Gerry and Sandra
---
Sign the Guest Book for Bobby Reginald "Reggie" Clark