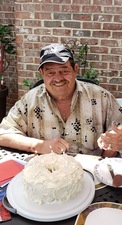 William "Bill" Lane Cook
May 04, 1950 - October 22, 2021
William "Bill" Lane Cook born May 4, 1950, passed away peacefully on October 22, 2021. He was preceded in death by his parents Ward and Lois Cook, brothers Lenza and Danny Ray Cook, and father- in-law and mother-in-law Paul and Geneva Collins. Bill always went out of his way to make those around him smile, laugh, and have a good time. If he liked you, he picked on you and he often gave people nicknames. He enjoyed sitting on the back porch with his family and friends laughing and telling stories about the good old days while watching the deer come in the field. He was known for making his delicious pound cakes and enjoyed making them for loved ones and friends. When able, he never missed a ball game, track meet, band concert, or other recognition event and was always there to support his children and grandchildren. Pa, also known as ol' goat and Punkin, was stubborn in the fact that he never wanted to smile for a picture, even though he had one of the best smiles ever! Bill and Brenda had a long-lasting love that is rare and one of a kind. They were high school sweethearts, and you didn't see one without the other. Like anyone else, he loved to pick on her too, but she would give it right back to him without missing a beat! He truly was the perfect husband, father, and Pa! Bill is survived by his wife of 53 years, Brenda Cook, sons and daughters-in-law, Tony Cook (Carey), Kevin Cook, and TJ Robertson (Samantha). Grandchildren Will Cook, Mitch Cook, Kourtney Cook, Lexi Ockerman, Kenna Robertson, and Hunter Robertson, great-granddaughter Harley Ockerman. Brother Larry Cook, sister and brother in-law Margie Tilley (Martin), brothers-in-law Garry Collins (Donna), Barry Collins, Danny Collins (Donna), sister-in-law Cathy Collins, aunts, several nieces, nephews, cousins, and friends. At Bill's request, there will be no funeral service. In lieu of flowers, the family asks that donations be made in his name to the Floyd County Rescue Squad as sincere gratitude for all of their exceptional care over the years.
---
Guest book
JoLisa Nixon
Corpus Christi Texas
October 24, 2021
I didn't know Bill well but I do know he was always a very kind man with an exceptional family. May you Rest In Peace.
---
Angie Dodge
Columbus
October 24, 2021
Brenda and family, my thoughts and prayers goes out to you and your family. I didn't get a chance to meet him, but knew Kevin from years ago when I attended Floyd Elementary with him before moving to TN. May you lean on God for comfort and strength.
---
Louise Hale Conner Wright

October 24, 2021
Brenda and family my prayers and thoughts are with you all during this difficult time.
---
Peggy Carmichael Walling
South Carolina
October 24, 2021
I'm so sorry for your loss may God be with each and everyone of you. Love Peggy Walling.
---
Nichols Clan
Floyd, Va.
October 24, 2021
Pa Bill was the best. He always brought sunshine wherever he went and could put a pound on ya from those delicious pound cakes. Thank you so much for sharing him with us Lots of love and prayers to all of you
---
Gail DeGood-Guy
Richwood, Ohio
October 25, 2021
Dear Kevin and family. Please accept my deepest sympathies for your loss. May God watch over you all during this most difficult time.
---
Todd D Gerbers
Salem
October 25, 2021
Sorry for your familes loss. Thoughts and prayers for you as you go forward.
---
John and Deborah Carter
Floyd, VA
October 25, 2021
Brenda, Tony, Kevin, TJ and family, we are so sorry for your great loss. You all will be in our prayers.
---
Jonnie & James Surrett
Maynardville TN
October 25, 2021
So sorry, cuz…I can't even imagine.
---
Sign the Guest Book for William "Bill" Lane Cook