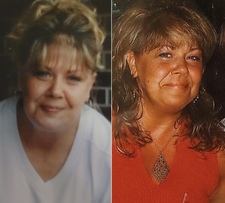 Delores Mitchell Willie
August 31, 1961 - November 08, 2021
Delores Mitchell Willie "Sissy", 60, of Copper Hill, went to be with the lord, Monday November 8, 2021. She was preceded in death by her parents Ralph and Patricia Mitchell. Delores is survived by her husband, Chris Willie; children, Nathan Willie (Nova), Matthew Willie; grandchildren, Ryan, Emma, and Freya Willie; brothers, Ralph Mitchell, Randy Mitchell, Mike Mitchell, Tony Mitchell; along with numerous nieces' nephews and friends. A graveside service will be held on Thursday November 11, 2021, at 11AM at Restvale cemetery. There will be no services at the Funeral Home. Online condolences may be made at Gardnerfuneralhomefloyd.com. The family is being served by Gardner Funeral Home.
---
Guest book
Sandra Helms

November 10, 2021
Sorry for the loss of your love one. My condolences and prayers are with the family
---
Todd E. Dearing
Pilot VA
November 10, 2021
To the Mitchell boys, our thoughts and prayers and condolences go out to each and everyone of you during this very difficult time if you need anything please don't hesitate 2 send me an email
---
Steve&Rosalie Moran
Copper Hill
November 10, 2021
---
Kelly Sisson
Floyd va
November 10, 2021
---
Becky A. Thompson
Floyd, Va
November 10, 2021
Delores and I always sat by each other in choir in high school. We had lots of laughs and I enjoyed her friendship so much. So sorry for your families loss and I pray for Gods comfort and strength to see you through. May you find comfort in the many good memories Im sure you have of sweet Delores.
---
Nova willie
Floyd
November 11, 2021
We love you mom! The world won't be as good without you here. Thank you for being a wonderful mom to Nathan and I, and an even better grandmother to our kids. Until we meet again...
---
Pamela A Rumburg
Check
November 11, 2021
I am so saddened to learn of Delores' death. My heartfelt sympathy goes out to all the family. Delores will be greatly missed.
---
Rusty Mitchell
Pulaski, VA
November 14, 2021
So sorry to hear about sissy, prayers heading your way for comfort and peace.
---
Nila Poff
Copper Hill, VA
November 30, 2021
So sorry to hear of the loss for such a sweet lady. We had some great conversations over the years our son's spent in school as friend. Thoughts and prayers for her family. Love to Matthew. Sincerely, Nila Poff
---
Rita Sunshine
Wytheville, VA
January 14, 2022
What wonderful memories I have with my dear friend, Delores. We had some wonderful and crazy times growing through our teenage years. I especially loved spending the night with her and the popcorn and Pepsi! Susie loved drinking the last little bit from the bottle. Tony, you hold a very special place in my heart, too! I am so sorry for this great loss. My heart is broken for each of you and y'all remain in my prayers and thoughts often. I will always love her and cherish our memories. God Bless each of you.
---
Sign the Guest Book for Delores Mitchell Willie