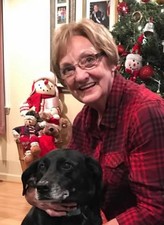 Wanda June Wray Nolley
July 25, 1945 - November 26, 2021
Wanda June Wray Nolley, 76, of Pilot, passed away with her daughter by her side on Friday November 26, 2021. Wanda grew up in Floyd, the 11th of 12 children. She was part of a very close-knit family. Reunions were never boring, as there were always many stories being told. She cherished her family but also loved the Lord. Her faith was instilled at an early age, and it carried her through many obstacles in life, including fighting breast cancer and enduring the loss of many loved ones. Wanda attended Faith Baptist Church, where she loved hearing Josh Blankenship preach and sing. Wanda was a proud lifetime member of the Floyd County Rescue Squad. She loved to help others and enjoyed the many friendships she made while serving the community. She was an employee at VA Tech for over 30 years. She retired but didn't stop working. She enjoyed working in the lunchroom at Check Elementary School, where she gained many friends and many adopted grandchildren. Much of her life included raising her daughter, Shawnee, to whom she was extremely devoted. Wanda eventually found her love with Vernon Nolley. Their marriage brought her 2 additional daughters and a son, whom she loved as her own. Wanda was preceded in death by her parents, James and Erslea Wray; husband Vernon Nolley; siblings and spouses, Annie and Wilmer Harris, Thurman Wray, Herman Wray, Ruth and Russell Young, Rufus and Glenna Wray, R.K. Albert, EmmaJean Wray, Herbert and Judy Wray, and Johnny Wayne Wray. She is survived by her children, Shawnee and Terry Fenton, Kim and Randall Nester, Corey and Susan Nolley, and Lynette and Bryan Vest; Grandchildren, Patrick and Morgan Moran, Bryce and Wyatt Gearhart, Macey and Dustin Thompson, Tyler Fenton, Carter Nolley, Kaleb Fenton and Charlie Vest; Great-grandchildren, Daniel Moran, Kade Gearhart, and Lucy Moran. Siblings; Charlie and Sette Wray, Corine Albert, Mary and Harold Mullins. Sisters-in-law, Bonnie Wray and Eileen Wray. Many nieces and nephews and numerous friends. Special 2nd daughters, Gretchen Gleim and Sandi Howell, a niece she had become very close to in recent years. Services will be Tuesday November 30, 2021, at 2pm at Gardner Funeral Home in Floyd, VA. With Pastor Josh Blankenship officiating. The family will receive friends on Monday November 29, 2021, from 6-8pm at Gardner Funeral Home. Interment will follow at Jacksonville Cemetery, Floyd, VA. In lieu of flowers donations may be made to the Floyd County volunteer Rescue Squad.
---
Guest book
Karen O'Connor
Ocala, FL
November 28, 2021
Our sincere condolences to Wanda's family and friends. I'll be praying for Shawnee and all the rest of her family for peace and comfort in the coming weeks and months. Wanda was a kind and caring soul and I'm so glad I knew her. May she rest in eternal peace.
---
Janet and Chris Cox
Murrells Inlet SC
November 29, 2021
Rest In Peace Aunt Wanda you will be greatly missed. My sincere condolences and love to Shawnee and family
---
Mike & Charlotte Epperley
Blacksburg
November 29, 2021
Shawnee,Terry,Tyler,Caleb and family, we are deeply sorry for your loss. May God comfort each of you during this very difficult time. Wanda never met a stranger. What a beautiful legacy that she left to her family and her community. We know that your hearts are hurting deeply. We ask for God to heal your pain a little each day. Please know that we love you and here for you. You will be in our thoughts and prayers.
---
John and Deborah Carter
Floyd
November 30, 2021
Shawnee, Kim, Corey, Lynette and family, we are so sorry for the loss of your mother. I know this has to be hard at this time. We will be praying for your comfort and peace.
---
Nila Poff
Copper Hill, VA
November 30, 2021
I loved Wanda Nolley. We (Nichols') consider her and Shawnee's family, Our Family. We will miss her smiling face! Love and Prayers for all her family. Sincerely, Nila and Ricky Poff
---
Drema Palmer
Floyd Va
November 30, 2021
So sorry to hear of Wanda passing Heaven gain a special angel. Prayers for her family.
---
Nancy Ballinger

November 30, 2021
Wanda and were friends a long time ago on Sweeny Street in Floyd. I lost touch with her but have thought of her often. She meant a lot to me and we shared many adventures! My condolences to her family. She was a special person. Nancy Ballinger
---
Steve and Rosalie Moran
Copper Hill, Va
December 01, 2021
---
Sign the Guest Book for Wanda June Wray Nolley