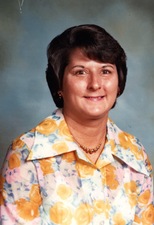 Carol Ann (Dayle) Yearout
September 17, 1942 - December 29, 2021
Carol Ann (Dayle) Yearout, 79, of Floyd, Passed away on December 29, 2021. She was preceded in death by her husband of 33 years, Ralph Yearout. Survived by son and daughter-in-law, Monty and Suzanne Yearout; two granddaughters, Caroline and Jordan; three sisters, Mildred DeHart, Betty Nolen, and twin sister, Gayle Harman; two brothers, Robert Agee, Jack Agee; along with numerous nieces and nephews. A Graveside Service will be held on Tuesday January 4, 2022, at 1pm at Jacksonville cemetery with Pastor Timothy Hale officiating. In lieu of flowers donations may be made to the Floyd Co. Rescue Squad.
---
Guest book
Gary & Sue yearout

January 01, 2022
Monty we will miss her. We are so sorry for your loss.
---
Ben Harmon
Olive Hill, KY
January 01, 2022
Many prayers for family and friends.
---
Jean Thomas Schaeffer
Harrisonburg, VA
January 02, 2022
I am so sorry to hear this sad news. I have fond memories of Dale and Gayle when we were at Harmony 2-room School - and then our many other years as classmates at schools in town. I send sympathy to Gayle, Betty and to all the family.
---
Missey Gay
Monroe NC
January 03, 2022
Dayle was my very dear friend for almost 4 decades. We remained in close contact after James and I moved to North Carolina over 20 years ago. I will miss her dearly. James and I send our deepest sympathies to Monty and all the family. God Blees you.
---
Sign the Guest Book for Carol Ann (Dayle) Yearout