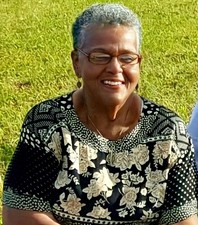 Deborah Annette "Debbie" Vaughn
November 25, 1958 - January 01, 2022
Deborah "Debbie" Vaughn was a fun-loving character who always enjoyed having quality time with friends and family. She always said, "if you need help doing something I will help". She always had time to listen and offer advice even if you didn't want to hear it, you always felt loved after seeing Debbie. Deborah Annette Vaughn passed away on January 1st, 2022 at the age of 63. She was born on November 25th, 1958 to Edgar & Thelma Vaughn. Debbie was a Christian and always went to church on Sunday. She was a member of Little River Missionary Baptist Church. She would love to usher and work in the kitchen, she would start devotions/testimony service at church, watch Turner Classic Movies and listen to music and sing along. In 1977 Debbie graduated from Floyd County High School and started working. Currently, employed at Aerial Machine & Tool Corp. She took pride in her job and always willing to do any task that was placed in front of her. At her job she had many friends that loved and valued her. Debbie is preceded in death by her parents Edgar "June" Vaughn and Thelma Jean Vaughn; one brother Edgar "Junior" Vaughn, III. She is survived by four sisters Rita (Donnie) Turner Floyd, Va; Wanda Vaughn Floyd, Va; Veronica Vaughn Floyd, Va; Charlene (Tony) Williams Easton, Pa. and a host of nieces, nephews, and friends. Memorial service will be held on Saturday May 28,2022 at 12PM at Gardner Funeral Home with Rev. Clinton Crump Officiating. There will be a visitation one hour prior to service time.
---
Guest book
Brenda Thompson Weeks

January 05, 2022
Rita and family so sorry for loss of Debbie. She was a very special person. Thinking of you and family with His comfort.
---
Garry Collins

January 05, 2022
I loved Debbie, she was such a good soul. She will surely be missed. May she rest in peace.
---
Sandra Helms

January 05, 2022
Sorry for the loss of your love one. My condolences and prayers are with the family
---
Kitty Huff

January 05, 2022
Sorry for the loss of Debbie. My prayers are with the family
---
Sandra Mabry
Laurel Fork, VA
January 05, 2022
I worked with Debbie until my retirement at the end of 2020. She was always a joy to talk to and work with. My heart was broken when I learned of her passing. May the good Lord provide comfort to all Debbie's family and friends. My thoughts and prayers are with you all.
---
Grant, Elsie, Amaria, April
FLOYD
January 05, 2022
---
Joy clifton

January 05, 2022
---
Angela Thompson
Floyd
January 06, 2022
I grew up with Rita and always thought highly of Rita. Her daughter and my daughter were very good friends in School as well. I have lost a sister and understand how tough this is. Love and peace are sent your way through positive thoughts and prayers.
---
Cathy Roberts

January 06, 2022
Prayers go up for peace and comfort for this wonderful family. Debbie was loved and will be missed. Thank you Rita and family for taking such good care of my friend.
---
Ina and Ernest Martin

January 06, 2022
To family of Debbie. I am so sorry for your great loss. I met her at Pannill and became friends. Shared our bounty of green beans from our garden with her and we had good fellowship, picking beans together. Will always her sweetness, kindness and speaking it like it was. May God hold you all in His loving sweet arms and give you peace. Love in Jesus, Ina and Ernest Martin
---
Tracy Lovo Quesenberry
Floyd
January 06, 2022
I will forever hold a place in my heart for Debbie. She was the sweetest and most honest person I knew. And always came straight at you with what was on her mind. There will be an empty space in all of our lives but I am so happy to think of her now in heaven laughing and telling it straight. I envision her There with Darlene stirring it up. I will miss her and love her forever.
---
Rebecca pack Whorley
Roanoke
January 06, 2022
You and your family are in my prayers
---
Janice Stuart Brown
Greensboro, NC
January 06, 2022
To the Vaughn Family: I am so sorry for your loss. My sympathy to the Vaughn Family I will keep the family in my prayers.
---
Regina Cox
Floyd
January 24, 2022
graduated with this lovely human being; have been privileged to reconnect over last 3 or 4 years. Always fun- loving and great to be around. Surely- will be missed
---
Linda Brown Claytor
Amherst, VA
March 03, 2022
I was so sorry to hear of Debbie's passing. She was always a cheerful and happy individual that was willing to help in any capacity. Debbie will be sorely missed by her friends and family. I'm sending prayers and condolences to the family.
---
Sign the Guest Book for Deborah Annette "Debbie" Vaughn