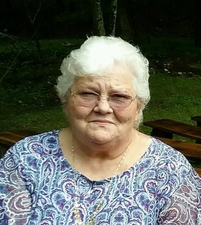 Edith Elizabeth Yates
July 20, 1943 - January 05, 2022
Edith Elizabeth Yates, known as Mawmaw to many, passed peacefully at home on Wednesday, January 5th. Preceded in death by her parents Kelly and Edith Steele, her brother and sister-in-law Clinton and Linda Steele, beloved husband GW Yates, and son Calvin Yates. She is survived by daughters Angie Muncy (Josh), Donna Wood (Dexter), sons Willie (Jen) Yates, and Kenny (Stephanie) Yates. Grandchildren Amanda (Jeremy) Cluxton, Tyler (Sarah) Wood, Abbey Yates (Phillip Burnett), Taylor Wood (Calvin Weddle), Presley Yates, Sierra Muncy, Hannah (Brent) Thompson, Olivia Yates, Aiden Yates and Karly Yates along with beloved great grandson Gentry. She is also survived by brother Frank Steele (Pam) and many special nieces, nephews, friends and family. Family will receive friends at Gardner's Funeral home from 6-8:00 pm on Friday January 7th. Funeral services will be at Gardner's at 1:00 on Saturday January 8th, with Freddie Conner officiating. graveside to follow at Wilson Cemetery.
---
Guest book
Angie Sowers
Floyd,Va
January 06, 2022
Willie, Kenny, Angie, & Donna, Sending prayers & love to you, your families, and all who were honored to know and love such a beautiful and loving lady. MawMaw Liz was such a beautiful person inside & out who unselfishly shared her love unconditionally with not just her family but all that she knew. May God's comforting arms be around each of you today and in the days to come Although she will be missed by all, she has gained the ultimate reward of her heavenly home Love, Angie Sowers
---
Peggy Wimmer
Check
January 06, 2022
My sincere sympathy to all the family. Elizabeth and GW were an anchor of hospitality and always an open door for any neighbor in need. She was loved and will be missed.
---
Lane & Pam McAlexander
Pilot Va
January 07, 2022
So sorry for y'all lost she was such a beautiful lady always smiling she will be deeply missed
---
Lucky and Betty Patsel
Elliston
January 07, 2022
We were honored to be her friend and family. We loved her so much she will be missed every minute of every day. Her heart goes out to all of her kids grandkids and great grandkids. There's no words that can help at a time like this. Just know that we love you all and are thinking of you
---
Bonnie McPeak Cardwell

January 08, 2022
J W , I'm sorry got your lost. I was on my way to funeral home , And I didn't know it was today. Please tell all family hello. Bonnie McPeak
---
Wayne & Wanda Gardner
Floyd
January 13, 2022
Our hearts go out to the family. May the Prayers of Comfort and Healing help you during the coming days.
---
Sign the Guest Book for Edith Elizabeth Yates