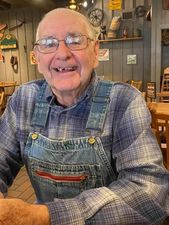 John William Griffith
April 02, 1941 - January 14, 2022
John William Griffith, 80, of Floyd, passed away peacefully at home surrounded by his family after a long battle with Alzheimer's on January 14, 2022. William worked hard all of his life doing many trades including working at Dale's Garage and Beaver Creek Tree Nursery. He was well known throughout the community for being good at auto mechanics and for being a welder. After he retired, he liked to tinker with lawn mowers. He was a long-time member of New Haven Baptist Church. We will remember him as the most kind, caring, generous man who never met a stranger and would help anyone in need. William is survived by his beloved wife of almost 49 years, Wanda Griffith; his best companion, his three pound guard dog, Emmy; Children, Andy Griffith (Rhonda), Tony Griffith (Sonya), Jay Griffith (Kristi), Amber Cockram (Bradly); grandchildren, Jacob Griffith, Zachary Griffith(Paige),Phillip Griffith, Anthony Griffith, Rayne Griffith, Ethan Griffith(Dakota Galla), Easton Griffith, Devin Griffith (Jackie), Katie Boyd (Shawn), Logan Griffith, Jayse Griffith, Krislyn Griffith, Mallory Cockram, Mason Cockram, Makenna Cockram; great grandchildren, Raleigh Griffith, Adaline Griffith; sisters Shirley Duncan, Hazel McAlexander, Elizabeth Thompson. Funeral Service will be held on Thursday January 20, 2022 at New Haven Baptist Church at 1pm with Pastor Allen Agee, and Pastor James Cockram officiating. Interment will follow in Lee Cemetery. The family will receive friends two hours prior to service time.
---
Guest book
June and Eddie Hayslett

January 15, 2022
Wanda, So sorry to hear about William. He was such a good man. Praying for you and your family.Love you cuz
---
EDWARD boyd
floyd va
January 15, 2022
so sorry prayers for the family. he sure will be missed.
---
Hilda Underwood
Willis, Va
January 18, 2022
Wanda, so sorry for your loss. Will keep you and your family in prayer.
---
Julie E. Townsend
Fleetwood, N.C.
January 20, 2022
To the Griffith family, and especially to Andy: Thinking of you and your family.
---
Sign the Guest Book for John William Griffith