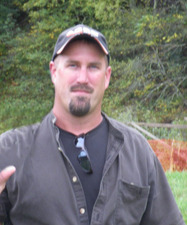 Peter Herman Eggers
January 22, 1974 - January 15, 2022
Peter Herman Eggers, age 47 of Floyd, Virginia ,  passed away Saturday, January 15, 2022  He was born Tuesday, January 22, 1974, Son of Herman and Traute Eggers. He is survived by his mother, Traute Eggers; brother, Roland Eggers; niece, Olivia Eggers; nephew, Mitchell Eggers; Aunt, Christel Morio; along with many friends and hunting buddies. A memorial service will be held at a later date.
---
Guest book
Johnny Dalton

January 15, 2022
Will miss Pete, he was great person! Prayers for the family!
---
Miriam Brancto
Floyd
January 15, 2022
Oh my God! Traute I just found out about Peter and I am shocked and so upset for you. Please know that I am praying for you and will be there for you. God bless you and Rest In Peace dear Peter.
---
Rhonda
Copper Hill VA
January 15, 2022
He was a very kind good hearted guy.
---
Karen Pursifull Radford
Floyd, VA
January 15, 2022
Traute, You are in our thoughts and prayers. I will always remember Peter for how welcoming he was to our family on the property! His and your friendship has been such a blessing to my parents and my life. So many great memories and such appreciation and admiration for letting us walk, hunt, shoot, fish, garden, and so much more!!! Please let us know what we can do for you in the days ahead. We are here for you.
---
Andy Cole
Stuart, va
January 16, 2022
Sorry for yourloss. He was a great guy and a great friend.
---
Odell
Stuart
January 16, 2022
I am so sorry to hear of Pete's passing. Pete was great guy who loved the simple things of life.
---
Carolyn McCulley
Roanoke
January 16, 2022
I am forever devastated with the lost of my dearest friend. He was such a caring and fun loving man. I will miss the crazy adventures we had together and the ones we were planning to get into this summer!! Anyone who can call Pete their friend is one of the luckiest people on this earth, to have known him, your life was definitely brighter. As a virus is a song sings, "I have loved you for a thousand years, and I will love you for a thousand more". I love Pete and I will love you forever. Thank you for making my life so wonderful and beautiful. You were awesome!!! Oliver and Frankie will miss you so!!! XOXOXO. Carolyn McCulley
---
Karrissa Howard
Friendswood, Texas
January 16, 2022
We send our love to Mrs.Traute & family. Pete was a special addition to our neighborhood family.
---
Taaffe Pereira
Erie, Colorado
January 16, 2022
You were a big part of all my childhood memories Pete! You were like the "big brother" to all us girls on Little Philadelphia Road. You will be missed greatly! XOXO
---
Heather Sundwall
Valatie, Ny
January 16, 2022
Pete, You were my friend and like a big brother to me. I will always consider you my family. Your super funny goofball faces and personality always made us laugh.. You will be missed. May you rest easy. Big hugs to my mom in heaven I know you two will have some good laughs and memories to share. Watch over your mom. I know how much you loved her. Prayers to your family. Miss. Traute I am so sorry- my sincerest heartfelt sympathy to the family. Love, Heather
---
Ronnie and Anne Pilson
Stuart, Virginia
January 17, 2022
so sorry! prayers for family and friends. Such a special friend he will be missed!
---
Patricia Duncan
Riner , Va.
January 17, 2022
Sorry to hear about Pete. He was a great guy and a good neighbor to my Mom, Mrs.Brown who had lived next door. So sorry for your loss.
---
Kari and Michael Kovick
Floyd, VA
January 17, 2022
Traute, our hearts go out to you. We have fond memories of singing with you at Nikki's house, and before that, picking blueberries at your farm. Our daughter is best friends with Suzanne. We know that Pete was dearly loved, and we are heartbroken for your loss. May you feel the love and support of many who hold you dear as well. We are thinking of you and sending you love.
---
Virginia Klara
Floyd, VA
January 18, 2022
Dear Traute, other family and friends of Pete, may you find peace on the other side of your grieving. Virginia Klara
---
Jimmy & Janet Lawson
Stuart Va
January 18, 2022
We are so sorry for your loss. Pete was a great guy, we thought so much of him. Please know that you are in our prayers.
---
Donnie Hughes
Stuart, Va
January 19, 2022
---
Mitch Cundiff
Floyd
January 21, 2022
Sorry to see this. I did not know Peter, but I knew of him. I had seen him many times in the community. It interesting how people effect lives of people they do not not know . I know I will miss him as a part of are community. Mitch
---
Suzanne Burgess
Floyd, VA
January 23, 2022
Pete was my best friend and love the last two and half years. My go to man for fixing things and my telephone buddy every day. He set the standard high and was a great man that lit up my world with so much fun, silliness and passion. I feel truly blessed to have known him. I will cherish the times we had together. Dear Pete, you kept my curiosity and will to live strong and my despair light. You have imprinted yourself on my heart. I will love you and miss you always. Until I see your beautiful face again. Sending special love and peace to Traute, family, and friends. Love, Suzanne
---
Clara Martin

January 24, 2022
Pete was a student of mine (English 12) at Floyd County High School. English was not his favorite subject, but we hit it off and he sailed through my class. Rest in peace, Pete; I will remember you fondly.
---
Stephanie H. Yates
Floyd
January 29, 2022
Many prayers to you all!! I am so sorry to hear of Pete's passing. I graduated with him and he always was such a kind soul who was always willing to help others. R.I.P. Pete and know you will always be in our hearts. Forever Class of 92
---
Mark and Lori Williams
Martinsville, VA
February 09, 2022
Pete will be truly missed. Friend for many years.
---
Sign the Guest Book for Peter Herman Eggers