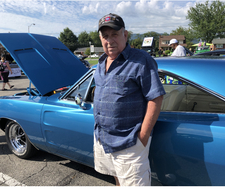 James "Jim" Leonard Blankenship
May 30, 1943 - January 14, 2022
James "Jim" Leonard Blankenship, was born May 30, 1943 in Oceana, WV. Currently residing in Floyd, VA went home to be with his heavenly Father on January 14, 2022. Jim is preceded in death by his Father, Clifford "Frank" Blankenship and his Mother, Vivian Wyatt Blankenship. Brothers, Charles Blankenship and Connie Blankenship. Left to cherish his memory are his wife Linda Maxwell Blankenship, Daughter Sherry Blankenship Blondino (Matt), Step-Daughter Elaine Kendrick (Tim), Step-Son Bobby Maxwell. Grandchildren Zak Blankenship, Jacob Blondino, Tyler Kendrick (Victoria), Zane Kendrick (Emilie), Hanna, Sydney & Nikki Kendrick, Hunter, Isaac & Wyatt Maxwell. Great Grandchildren Reagan & Wesley Kendrick. Brothers Bill Blankenship (Joy) of Dothan, AL and Raymond Blankenship of Beckley, WV. Sisters Shirley Goodwin of Prince George, VA and Anna Crouch (Rupert) of Eufaula, AL. Sisters-in-Law, Kathy Blankenship of Cleveland, OH and Maggie Blankenship of Dublin, VA and a host of family and friends. Jim served his Country as a Paratrooper and Sgt. in the U.S. Army. He was in the Davy Crockett Platoon from the 325th Airborne Infantry Battlegroup of the 82nd Abn Div. in Fort Bragg, NC. He received a Parachutist Badge. He owned and operated Riner Small Engines after retiring from the United States Postal Service. He loved the Virginia Tech Hokies, Washington Redskins, fishing and his days of drag racing at Elk Creek Raceway. Visitation will be Thursday, January 20, 2022, from 6-8 p.m. at Gardner Funeral Home. Funeral Services will be held on Friday, January 21, 2022 at 1:00 p.m. at the Southwest Virginia Veterans Cemetery in Dublin, VA. In lieu of flowers, please make donations to: Mary Lou Summers, Chairman SWVAVCV-P.O. Box 11373 Blacksburg, Virginia 24062-1373 marysummers496@gmail.com *Please make all donations payable to: SWVA Veterans Cemetery Volunteers
---
Guest book
Robert Belcher
Willis va
January 18, 2022
Dear Linda and family I'm so deeply sorry for your loss in my thoughts and prayers for comfort during this difficult time
---
Sharon Lovern Akers

January 18, 2022
Sherry and the entire Blankenship and Blondino families: Please accept my sincere condolences in the passing of your father. I commend him for his service protecting our country. May God watch over each of you at this difficult time and carry you through the days ahead. Even though your dad is no longer on earth, his memories will always be with you.
---
Ellen Howell Maxwell & Children
Fieldale Va
January 18, 2022
Condolences to the family.
---
Debbie Lake
Christisnsburg Va
January 20, 2022
I am so sorry for your family loss and praying for each and everyone of you! Jimmy was a good friend of mine we spent many hour talking about everything under the sun. I will miss his joking around and that smile of his. God rest your Soul .
---
Bill & Annie Maxwell
Patrick Co Va
January 20, 2022
---
Kim and Cliff Crouch
Eufaula, AL
January 20, 2022
Linda, Sherry and family We are sorry we can't be there with you, but wanted you to know we are thinking about you. We want you to know we are praying for all of you. We love all of you. Pidge, Ann, Cliff and Kim Crouch
---
Wanda Martin
Christiansburg,va
January 20, 2022
So sorry for your loss. God be with you and your Family.
---
Kelly Williams

January 21, 2022
I'm at a loss of words. Sherry I'm so sorry for the loss of your dad. I want you to know God has you. I'm so sorry. We are here if any of you need anything. You dad was a good man. You are like him. We love you! Love Robert and Kelly
---
John & Elizabeth Johnson
Woolwine,Va
January 21, 2022
Sorry for your loss. We are praying for you all
---
Sherry Blondino
Christiansburg
January 27, 2022
Thank you to everyone for such kind words about my Father. We are heartbroken but Thankful for knowing he is with Jesus. So many of you have done such kind things for our family and it does not go unnoticed. And Gardner FH staff, you've been a blessing and gone over and beyond what we expected! Again, you so much….
---
Sign the Guest Book for James "Jim" Leonard Blankenship