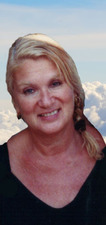 Dolores "Dee" LeMay
October 16, 1942 - January 24, 2022
Dolores "Dee" LeMay, age 79 of Floyd, Virginia ,  Went to her eternal home on Monday, January 24, 2022.  Left to cherish her memory is her husband of 48 years, Paul L LeMay; two sons, George DesCartes (Mayling), J.P. LeMay; daughter, Maria White (Wayne), 4 grandchildren, 2 great grandchildren, one brother, John Ventura. A private memorial service will be held at a later date.
---
Guest book
Will Norton
Floyd
January 26, 2022
Paul-I am so sorry for your loss.
---
Theresa Cook
Floyd, Va
January 28, 2022
My sincere condolences to Paul and his family.
---
Barbara von Claparede-Crolac
Floyd
January 28, 2022
Dear Paul, I am so sorry for your loss. Dee is in a better place now and doesn't have to suffer anymore. You were such a loving, caring husband. May all the wonderful memories of her soften your pain. My thoughts and prayers are with you, fondly, Barbara
---
Sign the Guest Book for Dolores "Dee" LeMay