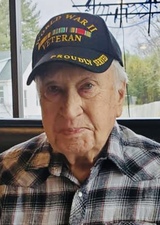 John Staige "Johnny" Wright
August 29, 1927 - January 25, 2022
John Staige "Johnny" Wright, 94, of Floyd, Passed away on January 25, 2022. He served in the army during WWII, John is preceded in death by his parents, John and Sarah Wright; brothers, Arthur Wright, Hanford Wright, George Wright, Kermon Wright; sisters, Nora Minucie, Clemine Wright, Minnie Minucie, Mary Wright. He is survived by wife, Frances Crawford Wright; his old buddy, Aubrey Sheppard; special companion, Ruger. A private graveside service will be held at the SWVA Veteran Cemetery. A celebration of life will be set at a later date. In lieu of flowers donations may be made to the local VFW or to the funeral home for funeral expenses.
---
Guest book
Deborah Jones
SC
January 26, 2022
Frances. Words can never express the heartfelt sorrow for your loss. Having been through this twice I can say that the days ahead will be tough. You will endure all emotions. Let yourself grieve in whatever way you choose. It isn't the same for everyone. I love you with all my heart and will always be here for you. Love you so much sister. Forever and always!!
---
John wright

January 26, 2022
You will be greatly missed. You left us with wonderful memories.
---
David Cole
Floyd va
January 27, 2022
My condolences Frances will keep you in my prayers
---
Chuck Shorter
Blacksburg
January 28, 2022
Frances Sure sorry to hear about John's passing. I always enjoyed seeing him and being around him. John always had some witty comment to liven up the conversation. He never lost his sense of humor. The world could use more folks like him. Sincerely, Chuck
---
Sign the Guest Book for John Staige "Johnny" Wright