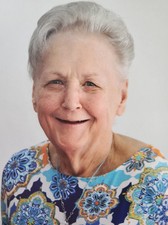 Deborah "Debbie" Kaye Smith
April 07, 1952 - February 02, 2022
Deborah "Debbie" Kaye Smith, 69, of Check, VA won her battle with cancer and went to be with her Lord on Wednesday, February 2, 2022. She loved her family, her flower gardens, sewing, and quilting. She was preceded in death by her parents, William E. and Frances B. Conner; brothers John L. (Skip) Conner and Michael D. Conner. Debbie is survived by her husband of 49 years, Larry G. Smith; her children Deana (Cecil) Brown, and Danny (Donna) Smith; four grandchildren, Atalie Brown, Micah Brown, Jacob Smith, and Emma Smith. Special Sister in-law, Lillian Sue Smith. Funeral services will be held at Gardner Funeral Home, Floyd, at 2:00 pm on Saturday, February 5, 2022. Interment will follow at Restvale Cemetery. The family will receive friends beginning at 1:00 p.m. prior to the service. The family would like to express their sincere appreciation to the UVA Transplant and Cancer teams as well as Good Samaritan Hospice. Flowers are welcome, however donations to UVA Health Foundation (Memo: Transplant) PO Box 800773, Charlottesville, VA 22908 would also be appreciated.
---
Guest book
Ann Boyd
Indian Valley, VA
February 03, 2022
Deana and family, I am so sorry. I can't imagine losing my mom. Sending much love to you, CW, Micah, and Atalie.
---
Kay Simpson Traube
Yakima, WA 98908
February 03, 2022
Dear Larry and family, My heart breaks for you. Debbie was a wonderful wife and mother. She now rests in the arms of Jesus and has no pain. Larry, my thoughts and prayers are with you, dear friend. God Bless you. Kay
---
JOHN l ROUPE
Shawsville
February 04, 2022
Danny sorry for the loss of your mother. My thoughts and prayers are with you in this difficult time. I hope you and your family will find peace after this loss of a cornerstone of your family.
---
Steve and Rosalie Moran
Copper Hill
February 05, 2022
---
Sign the Guest Book for Deborah "Debbie" Kaye Smith