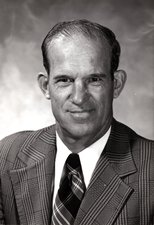 Rev. Alvin Brown Radford Sr.
August 14, 1922 - March 04, 2022
Rev. Alvin Brown Radford Sr. (99), born and raised in Floyd County, Virginia on August 14,1922 went to be with his Lord and Savior on March 4,2022. He was predeceased by his wife of 70 years, Verna Trail Radford; parents, George Riley and Sarah Elizabeth (Radford) Radford; four brothers, Wilson, Swanson, Willard (Bill) and Moyer (Boss); two sisters, Leila Underwood and Lena Trail. He was also predeceased by a very dear grandson, Mark Lee Radford. He is survived by one daughter, Kitty (Dennis) Mayo; and one son, Alvin, Jr. (Virginia) Radford. Left to cherish his memories are five grandsons, Dean Paxton, Barry (Angie) Radford, Joey (Pam) Mayo, William (Andrea) Radford, and James (Emily) Radford. He is also survived by eight great grandchildren (Madison, Shaleigh, Sierra, Noah, Kaitlyn, Emeleigh, Olivia, and Ellie); three great-great grandchildren, and many nieces, nephews, step-grandchildren, step-great-great grandchildren, numerous extended family members and many friends. Brown served his country in the United States Army Air Corps from Jan 8, 1942, to March 17, 1946, at which time he received an honorable discharge and came out with the rank of corporal and having been awarded five medals. He re-enlisted April 16, 1948, at which time he was caught up in the Korean Conflict. He rode on the "Midnight Ride" of the 3rd Division and received an honorable discharge with the rank of Sergeant April 16, 1952. He accepted Christ as his Lord and Savior in 1953 and in 1957 he turned his life over to full time service for the Lord. He entered Piedmont Bible College September 21, 1959, where he graduated in the spring of 1962. While in college he served as interim pastor for Auburn Baptist Church. In 1962 he accepted a call to pastor First Baptist Church in New Castle, Virginia. He moved his family to New Castle, Virginia in July of that year. Later he founded Lighthouse Baptist Church where he continued to serve the Lord for the remainder of his life. The family will receive friends from 6:00 pm to 7:30pm, and conduct a short service at 7:30 pm on Monday, March 7, 2022 at Lighthouse Baptist Church, 852 Paint Bank Rd in New Castle, VA. They will receive friends at Gardner Funeral Home in Floyd, VA. On Tuesday, March 8, 2022 from 6:00 pm to 8:00 pm. Funeral Services will be conducted at 2:00 pm Wednesday March 9, 2022 at Gardner Funeral Home, 202 E. Oxford St., Floyd, VA 24091. Military Rites will be performed. Interment will be at Cannady Cemetery in Floyd VA. In lieu of flowers, the family requests that donations be used to further the gospel of our Lord and Savior, Jesus Christ, to the recipient of your choice.
---
Guest book
Christina Albright
Hollins, VA
March 05, 2022
I was sorry to hear of Pastor Radfords passing. I know he is rejoicing with our Lord Jesus Christ. Praying for family and friends as we will surely miss him.
---
Valerie Stephens
Roanoke, VA
March 06, 2022
May the family receive peace and comfort.
---
Kitty and Junior: remembering all the good times with you and your parents. Thinking of you with love and sincere sympathy.
---
Kim Novak
Roanoke
March 07, 2022
My thoughts and prayers are with you during this time of loss. It was an honor to know Rev. Radford through William Radford, his grandson. So much history over his lifetime. I am grateful that he went to sleep and when he opened his eyes again the first person he saw was Jesus.
---
Adam and Suzie Smith
New Castle
March 07, 2022
Both me and suzie were saved under preacher Radford. He performed our marriage on 10/26/1984. He was a Godly and loving preacher and friend.
---
Sign the Guest Book for Rev. Alvin Brown Radford Sr.