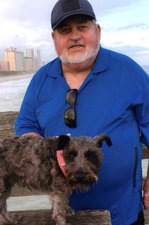 Sidney Elmon Webb
April 15, 1946 - March 13, 2022
Sidney Elmon Webb, 76, of Floyd, VA. Passed from this life to his eternal reward on Sunday March 13, 2022, after a long battle with Covid. Sid spent many years working in the construction industry. He loved farming and never met an animal he didn't love and want to take home with him. He was a lifelong member of Green Mountain Baptist Church in Meadows of Dan where he served as Deacon for many years. He is survived by his devoted wife of 49 years, Allie Keith Webb; two wonderful grandsons; Cole Jason Webb, and Caleb Eric Webb, along with Dixie Belle Webb his beloved fur baby. He is also survived by one sister, Mozelle Boyd; along with numerous nieces, nephews, and friends. Sid was preceded in death by 2 sons, Jason Eric Webb and Andrew Brian (Drew) Webb; his parents, Melissa and Lonnie Webb, 4 brothers, Kyle, Wayne, Lonnie (Buddy) and Lowell (Blinky) Webb; 4 sisters, Lois Boyd, Hallie Semones, Hilda Dalton, and Betty Rose Webb. Sid had a deep love for bluegrass music and spent many hours in the town of Floyd enjoying various musical artists. Funeral Services will be held on Wednesday March 16, 2022 at 12PM at Gardner Funeral Home with Pastor Howard Nester and Pastor Nathan Montgomery Officiating. Interment will follow in C.B. Webb Cemetery. There will be a visitation one hour prior to service time.
---
Guest book
Jenzy Ryan
Bassett, Va
March 14, 2022
Many prayers going up for Sid's family.
---
Dale & Bonnie Boyd
m of dan
March 14, 2022
---
Michael Hooper
Bassett
March 17, 2022
I'm sorry to hear the news. Prayers for the family.
---
Sign the Guest Book for Sidney Elmon Webb