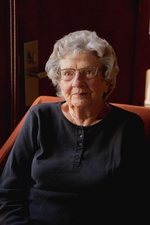 Louise Thompson Fentress
June 20, 1931 - April 10, 2022
Louise Thompson Fentress, 90, of Christiansburg, passed away on Sunday April 10, 2022. She was born on June 20, 1931 to the late Murphy and Annie Thompson. Louise is also preceded in death by her husband Ernest Fentress; sons, Mark Fentress, and Bryan Fentress; sister, Mary Williams(Gene); brothers, Newell Thompson, Earl Thompson (Eula), Shirley Thompson. Left to cherish her memory are her daughter's-in-law, Marla Fentress, Julie Fentress; grandchildren, Scott Fentress, Austin Fentress (Elizabeth), Courtney Nelson (Curt), Annie Fentress, Corbin Fentress, Casey Fentress; three great grandchildren; brothers, Dorsey Thompson (Louise), Gene Thompson (Hazel); sister-in-law, Verda Mae Thompson; along with several nieces and nephews. A Graveside Service will be held on Wednesday, April 13, 2022 at 11:30 AM at Jacksonville cemetery with Rev. Dr. Don Mackin. The family will receive friends from 10:00 AM to 11:00 AM prior to service time on Wednesday at Gardner Funeral Home.
---
Guest book
norma brown
roper, nc
April 11, 2022
Aunt Lou is the last of Uncle Layton's sibling's wives., the Fentress's of Norfolk, Va. She always was cheerful and a joy to be around. We flat-landers could never keep up with her whenever she took us to Floyd. She enjoyed sharing photos of her grands and greats and they have been blessed to have had a grandmother like her.
---
Ray and Kitty Styons
Tarboro, NC
April 11, 2022
I'll always remember the visits my sister-in-law, Norma, and I had with Aunt Louise. She always welcomed us into her home with special meals and treats. We had so much fun shopping and running the back roads of Virginia as she took us to visit her home town of Floyd. I will forever treasure my memories of the many visits from Uncle Layton (Ernie) and Aunt Louise to my Mother, Helen Fentress Brown through many years. Aunt Louise will be forever missed.
---
Brenda (Bowers) Casper
Philadelphia, PA
April 13, 2022
Sending my sympathy and love to the family. I always enjoyed visiting with Louise, and I appreciated how much she stayed in contact with Mother and Daddy. She was special. Brenda
---
Kathy Banks
Christiansburg
April 19, 2022
I am so sorry to hear of Mrs. Fentress passing. She was such a kind lady. I previously worked with her son, Brian.
---
Sign the Guest Book for Louise Thompson Fentress