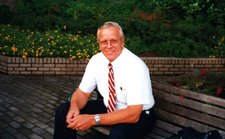 Noel Boone Conner
March 30, 1938 - April 21, 2022
Noel Boone Conner, 84, of Copper Hill, Virginia, passed away on April 21, 2022, surrounded by his family. Noel was a long-time resident of Floyd County where he enjoyed life on his farm. He loved growing his own food in his gardens, hunting, fishing, cooking, and anything dealing with nature. He retired from Greyhound bus line and then went on to work as a Tour Bus Driver. These tours were the highlight of his career. He loved to travel and see the world. He loved telling stories of all of his favorite places to visit. Noel was preceded in death by his parents Oliver Noel Conner and Mary Hazel Boone Conner and his sister Mary Frances Conner Williams. He is survived by his daughters Jennifer Conner Plummer (Keith) and Brenda Conner (David White), his grandchildren Chase & Grayson Plummer, Juliann, Mitchell, Melanie and Jamie Peyton and his sister Virginia Carol Conner Whittaker. He was loved by many including his nieces and nephews and his neighbors who always treated him like family. Service will be held Friday April 29, 2022, at 2pm at Gardner Funeral home with Pastor Craig Whittaker officiating. Interment will follow at Wilson Cemetery. The family will receive friends from 1pm-2pm Friday prior to service time. In lieu of flowers donations may be made to the Floyd County Rescue Squad.
---
Guest book
LARRY & RITA PEYTON
Crockett, VA
April 25, 2022
Noel Boone Conner, may you R.I.P. Enjoy the new home and new friends and family in the heaven above. Noel was a very nice person. Loved working on his farm. Was a family man and loved his children and grandchildren. May he R.I.P, now that he has gone to be with God and will meet up with family and friends in the sky. God Bless you Noel. You will be greatly missed. Larry and Rita Peyton
---
Tom Seiler
Long Beach, Mississippi
April 26, 2022
In 1957 while in the Navy, Noel introduced me to his cousin Sigrid and Floyd County, I immediately fell in love with both. We have remained friends those many years since and he was my go-to guy with answers to my questions, from guns to cooking and all in between. He will be missed.
---
Laura Seiler
Mobile, Al
April 27, 2022
I loved visiting with Noel on his front porch. The company, the view and the hummingbirds. I will always think of him when they visit at my house. He will be missed.
---
Sign the Guest Book for Noel Boone Conner