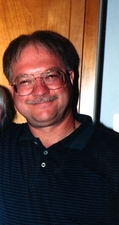 Roger Alan Sewell
April 02, 1956 - April 27, 2022
Roger Alan Sewell passed away suddenly on April 27th, 2022 at the age of 66 in Christiansburg, Virginia. He was born in Roanoke, Virginia on April 2nd, 1956. Roger obtained two degrees in Mechanical Engineering from Old Dominion University then worked at Verizon as an engineer for telecommunications and internet services. Roger had many unique phrases around the house and fun habits such as answering the phone like he was the answering machine or an employee at a pizza place. He enjoyed working on many projects ranging from cars to household projects and enjoyed watching movies and reading books – particularly anything sci-fi, horror, or mystery. His inventive mind often saw potential in older products that could be put to new purpose – especially if it was something that would help a family member. He was a frequent blood donor and was always eager to help others. Roger is survived by his wife, Vera Sewell; daughter Gwen Sewell and her husband Dr. Steven Rapp; son Ken Sewell; sister Mary and her husband Bery Vest; brother Doug and his wife Karen Sewell; sister Tracy and her husband Chris Campany; and many cousins, nieces, and nephews. A funeral service will be held at Gardner's Funeral Home in Floyd on Monday, May 2nd at 2pm with Pastor Roy Turpin officiating. Visitation is from 1pm to 2pm. There will be a graveside service at Tuggles Gap Lee Cemetery after the funeral. In lieu of flowers, please donate to your local PBS or NPR stations on his behalf.
---
Guest book
Pamela A Rumburg
Check
April 29, 2022
So So sorry to learn of Roger's passing. My deepest sympathy to the Sewell family.
---
Cheyenne Bower
Roanoke, VA
April 29, 2022
Roger was such a friendly and intelligent man. I remember the many family reunions where he would come up to my Grandpa and say "Hey Roger" and they would both get a kick out of it every time. Sending my love for you to find comfort in the coming days and cherished memories you can hold onto forever.
---
Mrs. Ann Meier

April 30, 2022
I am sincerely sorry for the family's loss of Mr. Sewell. No mere words will take away your sadness; so, I will hope that the fine memories of him will bring comfort to all and help you get through this difficult time. Is.26:19, Ps.37:29
---
Mary, I'm sorry for your loss. My love goes out to you and your family. May God's grace bring you comfort during this time.
---
Joel and Amanda Shank
Boones Mill, VA
April 30, 2022
Sorry for your loss. Praying for Roger's family and friends.
---
Margie and Garland Cockram
Woolwine VA
April 30, 2022
---
Doug,Mary and Tracy, So sorry for your loss. Roger will be missed. As our family mourns another loss,let's cherish the time we have together. If I can do anything please don't hesitate to contact me. I will not be able to attend the service; but,my thoughts and prayers are with you all. Love you guys, Joey
---
Chuck Simpson
Roanoke VA
May 02, 2022
The Members, Retirees, Officers and Executive Board of CWA Local 2204 extend our caring sympathy and blessings for his dear family and friends. He was a strong member and steward of our local. He will be deeply missed.
---
Cheryl
Roanoke
May 03, 2022
He was a good friend and a weird colleague,(in a good way), he was loved by many, and respected by all. He loved his family, and his legacy will live on in them.
---
Sign the Guest Book for Roger Alan Sewell