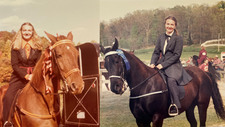 Darlene "Dean" Faye Ferris
December 29, 1958 - May 17, 2022
Darlene Faye Ferris, 63, affectionately known as "Dean," peacefully passed away on May 17, 2022, after a courageous battle with cancer. She is preceded in death by her parents Vaughn and Kathleen Ferris. She is survived by her sister Connie Moneyhan (Tom) and nieces Hollie Behr (Derek); Katelyn Wilkerson (Dylan); and Kim Nickols (John). She leaves a huge hole in the hearts of family and friends who were often entertained by her stories and quirky sense of humor. A devoted CNA, she treated her patients with dignity and care. Her positive outlook, generous spirit, and kind heart left an impression wherever she went. She had a deep love for animals especially dogs and horses. Many thanks to the staff at Bon Secours Hospice. In lieu of flowers those wishing to honor her memory may consider gifts to Bon Secours Richmond Health Care Foundation. A graveside memorial will be held on Saturday, June 4 at 2:00pm at Restvale Cemetery, Rt. 221, Copper Hill, VA,
---
Guest book
May you be starring at Jesus' eyes as I type this message. May He bless your soul and spirit.
---
Bobbie Farley (Link)

May 20, 2022
---
Anita Hassell
Roanoke
May 20, 2022
Connie and family, you have my deepest sympathy. Dean will always have deepest respect and love. I will truly miss her.
---
Al and Trudy
Florida
May 20, 2022
She always brought fun to wherever she was. There wasn't an animal she didnt snuggle or love on. Dean had a heart of gold and a smile on her face. Rest well, Dean.
---
Teddi Rutschman
Troutville,Va
May 20, 2022
My deepest heartfelt condolences go out to her family. now the world is a little less bright without her. My prayers go out to Connie and her family
---
Cathy Waldron

May 22, 2022
So many memories of Deanie. She helped me take care of the dogs, cats and Iguana; and she loved any and all animals. When her horse died years ago., She came to my house and silly me gives her a cup of coffee in the grave digger cup, the monster truck. She cried, But that was my favorite cup and I wanted to share with her because we had been to Outer Banks and visited the gravedigger. Deanies mama always made me fried apple pies and her daddy always gave me; The biggest and the best tomatoes. I was trying to grow sunflowers one year and I gave Vaughn Her father some seeds. All my sunflowers died and he had the biggest prettiest sunflowers ever. She also helped me with my parents when they were in Elm Park senior living. Dad had a doctors appointment and the elevators went out. Deanie Was gone for about five minutes and came back with three strong men who put my dad in a wheelchair and carried him down the steps so we could make it to the doctors appointment. She was an excellent caregiver. I wish we hadn't drifted apart, I left a few sock monkey's In her mailbox and she would call me and say thank you. I didn't put a card with it I just put a sock monkey and her mailbox because that was her favorite. She knew it was me.
---
Diana Fain
Roanoke
June 01, 2022
I loved Dean so much! She had such wonderful stories and a way of telling them that was very entertaining! I will miss her so very much!
---
Sandra Atkinson
Murrells Inlet, SC
July 29, 2022
To Darlene Family I am sorry for your loss and I apologize for being so late in sending this message to you. I do remember her when she worked under me at Stuart McGuire/MarkeTech in Salem, Va. I was the Manager of Telemarketing and she worked for me. She was excellent employee and when Home Shopping took over she decided to leave and go to work somewhere else. I recently spoke to another employee and he told me so much how she would talk with him about horses, he also was sorry to learn of her passing. Take care and God bless each of you.
---
Sign the Guest Book for Darlene "Dean" Faye Ferris