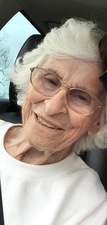 Helen Marie Yates Link
February 28, 1930 - May 24, 2022
Helen Marie Yates Link, 92, of Check, passed away on Tuesday May 24, 2022.Helen was an Elementary School teacher for many years in the Roanoke Valley. She was preceded in death by her Husband, Robert "Bobby" Link; and son, Gary "Dean" Link. Helen is survived by her sister, Laura Eugenia Yates Link; daughter, Anita Kaye Giles; granddaughters, Dana Marie Rowland (Buddy), Jessica Lynn Perdue (Logan); four great grandchildren, Zoe Lynn Rowland, Owen Michael Rowland, Rieker Oakley Perdue, and Xander Rhett Perdue. Funeral Service will be held on Friday May 27, 2022, at 2 PM at Gardner Funeral Home with Pastor Michael Zeman Officiating. Interment will follow in Wilson Cemetery. The family will receive friends from 6-8PM on Thursday May 26, 2022, At Gardner Funeral Home.
---
Guest book
Freddie Gallimore
Harrison, Ohio
May 26, 2022
To a great lady who lived next door most of my growing up life. I used to stop over just to talk to her. Our families often comingled. Dean taught me to play Chess and got me to join the scouts. As a teacher, she was wonderful to know. I remember my first vacation bible class at her church. Pretty amazing she lived a full life. She was a pretty amazing woman. I am sure heaven is pleased to have her. My heart goes out to Kaye and her wonderful family.
---
Denise and Ronnie Bryant
Roanoke
May 26, 2022
Dear Kaye and family, We are thinking of you during this time of losing your sweet mother/grandmother. Denise & Ronnie
---
Jennifer C. Harris
Salem, Va
May 27, 2022
Kaye, my heart breaks for your loss. My love for your family goes back when we were in school together. It will always remain.
---
Sign the Guest Book for Helen Marie Yates Link