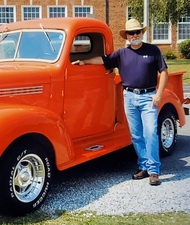 Bentley G. Ferris
September 29, 1953 - May 29, 2022
Bentley G. Ferris, 68, of Floyd, Passed away unexpectedly Sunday May 29, 2022. Bentley started his draftsman career at Poly- Scientific transitioning to Inland Motors until the last 10 years of his career at Federal Mogul. He was preceded in death by his parents Coy and Hazel Ferris. Bentley is survived by his daughter and son-in-law, Amanda and Chad Dulaney; grandson, Blake Dulaney; brother, Paul Ferris (Hilda); sister, Frances Gardner (Olen). He is also survived by several nieces, other family members and numerous friends. Funeral Service will be held on June 3, 2022, at 11 AM at Gardner Funeral Home with Reverend Steve Wade Officiating. Interment will follow in Head of the River Church Cemetery. The family will receive friends from 6-8PM on Thursday June 2, 2022, At Gardner Funeral Home.
---
Guest book
Kim Shorter and Scott Conley
York, PA
June 01, 2022
Benny's humor, good nature, and strength of character will be deeply missed by everyone who knew him. Beyond a cousin, he was an unwavering, true friend. Our deepest sympathy to his extended family and many friends.
---
Larry (Dink) Conner
Hunt Valley, MD
June 01, 2022
Bentley always had a smile and a kind word when we'd see each other. When we were younger we'd see each other often when my parents would take me "down home" to visit. I saw Bentley when he came to MD for Harry Shorter's funeral couple years ago then I saw him again while I was paying Uncle Arthur a visit several weeks after that. Texted a couple times and a phone call now and then. Benny was a good, decent man. Rest in peace cousin.
---
Prayers for all the family. Sorry for your loss.
---
Hattie Trail
Radford
June 03, 2022
Bently was one of the nicest guys I ever met. I knew him from Inland Motors. He was so friendly to everyone. Sorry I couldn't attend the service. My deepest sympathy to all the family.
---
Sign the Guest Book for Bentley G. Ferris