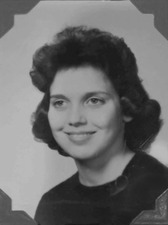 Betty Sowers McNeil
February 20, 1944 - June 04, 2022
Betty Sowers McNeil, age 78 of Pilot Virginia went to be with the Lord surrounded by her beloved daughters. She was reunited this day with her husband Alvin DeHart McNeil and their infant son Alvin DeHart McNeil Jr. She was born February 20 1944, to the late Fred and Maureen Sowers. Also preceded in death by siblings Frankie Sowers and Nikola Eller. She leaves behind Penny (David) Adkins, Angie (Todd) Kast, Emily (Carson) Altizer, Rebecca (Ryan) Hubble, along with grandchildren Greg (Crystal) Adkins, Katelyn (Mackenzie) Muldoon, Ansley Altizer, Reece Hubble, Leah Altizer, Rylan Hubble and great grandchildren Logan Adkins and Baby Muldoon expected July 2022. She also leaves behind siblings Garry (Weeta) Sowers, Viola (Jimmy) Tawney, Debbie Farley, along with several sisters and brother in laws, loving nieces and nephews and special church friends. Betty worked many jobs to help provide for her family but the job she valued most was caring for her four daughters and their families. Some of her passions included gardening, canning, and cooking. She used her cooking skills as an act of service to feed many neighbors and friends in the community including her church family at Abundant Life Fellowship. The family wants to thank all the caregivers who spent countless hours providing care and love. The family will receive friends on June 7 at Abundant Life Fellowship, Pilot, Virginia. Visitation at 11:00, service at 12:00, interment will follow at Sunset cemetery. In lieu of flowers please send donations to Abundant Life Fellowship.
---
Guest book
Darryl & Patricia Eller
Lillington, NC
June 05, 2022
We are so sorry for your loss and are praying for your family. Aunt Betty was loved by so many people and she will be missed.
---
Kaye Bond
Christiansburg, VA
June 05, 2022
Thinking of you all with love and prayers. I can picture your momma bustling around in the kitchen with food for the Flinchum Reunion we all used to go to at the Pilot school house. She was such a sweet lady.
---
Patty Shepherd
Maryville, TN
June 05, 2022
Alvin and Betty were some of the first people we met when we moved to Christiansburg in 2002. I had just had surgery and they brought the most wonderful meal i n to us. My mom and dad were there as well. We all thought it was delicious. Of course we had to have her meat loaf recipe. I still use it today. I gave Alvin the name Michael Jackson because he was wearing white socks trying his black tux on for Emily's wedding. He started dancing.This family is some of the best people I've had the privilege of knowing. They were like extended family to us. The last time I saw them we came from TN to their wedding anniversary party. I saw them briefly at a dinner where we were the guest. You could always depend on them. Rest in beautiful peace. I know you are enjoying your heavenly home. I will miss
---
Ruth Lefko
Christiansburg VA
June 06, 2022
I am so sorry to hear about your loss. Betty always welcomed my students and me in the lunch line at FBE with a smile. Sending my deepest condolences to your family.
---
Kim Woolwine
Blacksburg Va
June 06, 2022
Please accept my deepest condolences for the loss of your loved one, Sending healing prayers and comforting hugs! She was a woman of knowledge taught me some lessons in life, looking forward to that day of homecoming! She was loved and will be missed!
---
Sue Blackwell
Pilot, Va.
June 10, 2022
So sorry to hear about Betty. She and my mother in Law Ruth Blackwell were such good friends they went to church together....always talking on the phone. They were together for awhile at Warm Hearth...my mother in law passed on Valentines Day so now they are together again in Heaven catching up on all the news. I'm going to miss talking to Betty...may she rest in peace.
---
Tiffany Sherman
Radford, Va
June 19, 2022
It makes my heart happy knowing that Betty has been reunited with her husband. She spoke of him often along with her kids and grandkids. She loved sharing what she had with others whether it was snacks in her room or food someone sent her. She was very outspoken and asked questions no Mayer how personal they were. I loved Betty so much and will miss our talks. I will miss her. Prayers for the family.
---
John Sowder
High Point, NC
July 11, 2022
I was saddened to hear of Betty Lynne's passing. I want to extend my deepest sympathies to her family. I know she will be missed.
---
Sign the Guest Book for Betty Sowers McNeil