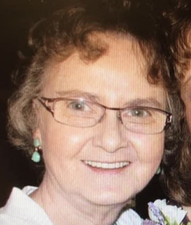 Norma Jean Martin Conner
December 31, 1946 - June 08, 2022
Norma Jean Martin Conner, 75 of Copper Hill went home peacefully on Wednesday, June 8, 2022 to be with her Savior and rejoice in His presence. She attended Calvary Baptist Church for many years and enjoyed volunteering with the Friends and Food program each month feeding those in need in our community. More recently, she had attended Victory Restoration Church, where she enjoyed the fellowship and teachings of Christ. Norma loved the Lord with her heart, mind and soul. She enjoyed attending church and when the pandemic hit, continued to attend virtually and would often listen to multiple sermons on Sundays. She worked in retail for many years at Hill's Department Store, making many friends along the way. She is now rejoicing to be reunited with those who've gone before her including her mom and dad, Frances and Elvin Martin; and a brother, Frank E. Martin. She is survived by her husband of 59 years, Edwin Conner; two daughters and sons-in-law, Sandy and Bobby Huff of Floyd, Teresa and Andy Martin of Check; four grandchildren, Courtney Cox and her husband, Zach, Robert Huff and his wife, Bridget, Conner Martin and Kimberly Martin; great grandson, Gavin Cox; two brothers, Paul Martin of Floyd and Glenwood Martin and his wife, Donna of Christiansburg; several nieces and nephews. Norma was a person who liked to see the good in people, she would help whenever you needed it. She adored her grandkids and great-grandson. She made sure to be active in their lives and share her abundant love with each one. Her daughters and grandkids were her pride and joy. A Funeral service will be held on Saturday June 11, 2022, at 2pm at Gardner Funeral Home with Pastor Jamey Hutton. Interment will follow in Jacksonville Cemetery. A visitation will be held on Friday June 10, 2022, at Gardner Funeral Home from 6pm -8pm. In lieu of flowers donations may be made to the American Cancer Society in her honor.
---
Guest book
Phillip & Kim Woolwine
Blacksburg, Va
June 09, 2022
Courtney, Zack, Gavin and Family, please accept our deepest condolences on the loss of your loved one, Sending healing prayers and comforting hugs.
---
Sandra Helms
Floyd
June 09, 2022
Sorry for the loss of your love one. My condolences and Prayers are with the family
---
David & Betty Hicks
Floyd
June 09, 2022
Sorry to hear. May God give your family peace as we share in your loss. Love & Prayers.
---
Sandra Poff
Floyd, Va
June 10, 2022
So sorry for the loss prayers for the family
---
Loretta, Gerald, & Leon Austin
Ridgway, Christiansburg,Roanoke Va
June 10, 2022
Sorry we couldnt be there. Thought a lot of Norma she will be missed.
---
Gerry &Sandra Shank
Floyd
June 10, 2022
We are so sorry to learn of Norma Jeans death. We are keeping all family members in our prayers. May God comfort you in your time of grief. Sincerely, Gerry and Sandra
---
Jim Richards
Copper Hill
June 11, 2022
Peace to you and your family.
---
Sign the Guest Book for Norma Jean Martin Conner