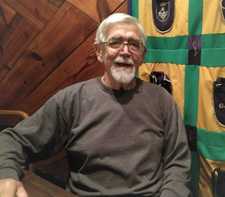 Donald Ray Hatcher
November 09, 1942 - June 18, 2022
Donald Ray Hatcher (Sonny Ray), 79, of Floyd, passed away on Saturday June 18, 2022. Ray was born on November 9th, 1942, the son of Donald D. and Sylvia Boyd Hatcher. He was preceded in death by his wife, Frances W Hatcher. Ray is survived by his partner in crime of 33 years, Bethel G. Reinhard; daughter, Brenda Vest (Mike); son, Stephen R. Hatcher; sister, Diane H. Reynolds; brother, Micky Hatcher (Carolyn), stepchildren, Kim Rossini (Jeff), Johnny Reinhard Jr (Laura), Laura Reinhard, Eric Reinhard (Amanda); 9 grandchildren, 11 great grandchildren, along with nieces and nephews who all adored him. Ray also leaves hundreds of good friends including Lane Roberson and Gino Williams, who he loved seeing. Ray Graduated from Floyd High School In 1961 and then enlisted in the United States Navy. He served as a dental tech during his four years of service. Ray returned to Floyd to take over the family business which became Ray's Rest. Ray's was known for cold beer and his world famous Hatcherburgers. Ray took great pride in the quality of his food and the service provided at Ray's. It was not unusual to be far from Floyd and see one of his Ray's Rest T-shirts. Ray enjoyed car racing as a driver and as a fan, one in particular being Dale Earnhardt Sr. He also loved New Orleans where he could pull up a stool and talk to someone who might be as interesting as he was. Ray never met a stranger and would strike up a conversation with anyone he met. Ray was always willing to support good causes such as Floyd County Rescue squad, Floyd County Fire Department, and Floyd County Sherriff Office. Ray Hatcher was one of a kind and lived his life to the fullest. Do not grieve over his passing, instead share a "Ray story" with someone when you get a chance. Donations to remember Ray may be made to Floyd County Rescue Squad at 452 Floyd Hwy N, Floyd, VA 24091, or a charity of your choice. A celebration of life will be held on Saturday June 25, 2022, at 2pm at Gardner Funeral Home with Rev. Roy Turpin officiating. Family will receive friends after the service from 3pm- 5pm at the Funeral Home.
---
Guest book
Joseph burress
Meadows of dan va
June 19, 2022
I have known this gentleman ever since I can remember my heart and prayers go out to the family and friends
---
Kim Woolwine
Blacksburg Va
June 20, 2022
Please accept my deepest condolences on the loss of your loved one. Sending healing prayers and comforting hugs!
---
Chuck Simpson
Roanoke, VA
June 20, 2022
What a great man-- I had the pleasure of tending bar with him as my first job in 1981- Many nights after closing we would all hang out to shoot pool and drink red-eyes, all one big family- The friends we made waiting tables and the the travelers who made it a point to stop there to enjoy a pizza with the works, Hatcher Burger with cheese, or a super steak sub- Sonny Ray made the bar a household name- His wisdom of life was told direct and to the point- He is surely sharing it as our guardian angel- I can hear him now- "Last call for Alcohol- You don't have to go home but you can't stay here" Thanks for the memories, Hatcher-
---
Debbie Mills
Ferrum, VA
June 22, 2022
Allen and I send our deepest sympathy to Bethel and Ray's children. We have many fond memories! 'Till we meet again, old friend. Love and prayers, Deb & Allen Mills
---
Mark & Sue Custer
Vinton, Va.
June 24, 2022
Condolences to all the family. Ray will be missed by everyone. I have so many stories about Ray, some funny, some serious but all of the stories showed how kind and caring he was. God Bless all.
---
Bob and Sue Keith
Floyd
June 25, 2022
Ray was a very good neighbor for many years. We appreciate all that he did for Floyd. Our thoughts are with each member of Ray's family.
---
David & Jean Harman
Willis, VA
June 25, 2022
We are very sorry for your loss. Ray was a good friend and I look back to our racing days with a smile on my face. He drove for M.L. Sweeney and won the track modified championship at Fairystone Raceway. Toby Nolen drove for Bruce Sweeney and me. Between the two cars we won most of the races that season and we knew we were successful because from mid-season on the crowd, tired of seeing the same cars win, stood up and booed when we arrived and pulled through the gate.
---
Tom & Linda Iddings
Christiansburg
June 25, 2022
Sending our sympathy and love to Bethel & family, Stephen, Brenda & family, Micky & Carolyn, and Diane Reynolds. Ray will be greatly missed!
---
Joey Snead
Floyd, VA
June 25, 2022
Ray, you will be dearly missed. Heaven is getting a good man. I will always be greatful for all you have done for me. Your advice on cars, finding me parts. Guidance you gave me when I was driving race car. Will definitely miss our conversations and "crown" drinks at the bar. Give em hell Ray, as we all know you will. Love you brother.
---
Brenda Thompson Lucas
Beaufort, SC 29906
June 26, 2022
My mom, Bonnie Thompson sends her thoughts and prayers to the family. As for me...Raye was a great guy. Always enjoyed our chats and loved his great food. Loved hearing about NO from his stories. Had several laughs with him and Steve Hall over cars and the things they shared. Sending prayers to his family. So sorry for their lost.
---
Chester and Joe Gallimore and family
Floyd
June 27, 2022
Bethel, Ray was one of a kind, many great memories we will have of all the times we spent at the restaurant and Floyd functions. You are in our hearts as you go forward and we pray peace will bring you comfort of how much "life" you had with him. You know we are here should you ever need us. God Bless, Chester, Joe, Angie, Hunter and Grant Gallimore
---
Sign the Guest Book for Donald Ray Hatcher