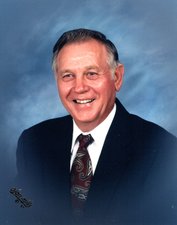 William Austin Lawrence
August 20, 1930 - July 13, 2022
William "Bill" Lawrence, of Floyd, Virginia, died peacefully at his home on Wednesday evening, July 13, 2022, surrounded by his family. He was born in Covel, West Virginia on August 20, 1930 to James Ernest and Rita Austin Lawrence, who proceeded him in death. Also preceding him in death were his siblings, Pauline Lawrence Hale, James Oliver Lawrence, and Frederick Lee Lawrence, along with his father- and mother-in-law Velvo and Elsie Spangler. He is survived by his loving wife of 65 years, Doris Ann Spangler Lawrence; his children Steven Lawrence (C. W. Markham) of Floyd and Joan Daggett (Kevin) of Bridgewater; and his granddaughters Faith Daggett of Mt. Jackson, Katelyn Daggett of Swoope, and Emily Daggett of Bridgewater. He is also survived by a sister-in-law Kerri McCarthy Lawrence of New Oxford, Pennsylvania, several nieces and nephews, and his beloved cat Scooter and granddog Desi. Bill retired from General Electric in Salem with 32 years of service. He joined the US Army in 1951, serving in Germany during the Korean Conflict. Bill was a member of Red Oak Grove Church of the Brethren for 50 years. During that time, he was a deacon, choir member, treasurer, and trustee. Bill was a quiet man, kind, compassionate, humble, and wise. He was happiest at home with his family and pets, whom he loved and cherished. He enjoyed farming, gardening, hunting, fishing, and working around his yard. A graveside service will be held on Saturday, July 23, 2022 at 10am at Jacksonville Cemetery in Floyd with the Rev. Dr. James Hubbard, the Rev. Kevin Daggett, and the Rev. Richard Thomas officiating. A reception will immediately follow the service at the home. Friends may also call at Gardner Funeral Home on Friday, July 22, 2022 from 8:30 am to 5 pm; the family will not be present. In lieu of flowers, donations may be made to the Floyd County Rescue Squad, or to the Virlina District of the Church of the Brethren, 3402 Plantation Road, NE, Roanoke, VA 24012. The family would like to express their sincere thanks to the Floyd County Rescue Squad, Carilion Clinic Hospice of New River Valley, Gerry and Sandra Shank, and our caregiver, Rose Saunders.
---
Guest book
Rose Saunders
Floyd
July 15, 2022
I am so sorry for your loss and I was blessed to be his caregiver.Love you all.
---
Hilda Harmon

July 15, 2022
---
Gerald Gallimore
Holly Hill, FL
July 18, 2022
It has been several years since I've seen any of the family, but my heart goes out to Doris and the boys, it's a loss only God can help you carry. Bill was Always the gentleman an example for many. All my love and blessings.
---
Donna V Minnix
Hardy
July 18, 2022
Sorry to hear of your loss. I know you have many wonderful memories.
---
Patty Weeks
Floyd, Va
July 19, 2022
Our family was so saddened to hear of your loss. Your family has always been so sweet and so well thought of in our community. Our thoughts and prayers are with you Patty Weeks
---
Pamela Rumburg
Check VA
July 20, 2022
So, so sorry to learn of Bill's passing. He was someone everyone enjoyed being around. Sympathies to all the family.
---
RJ & Karen Thompson

July 22, 2022
Our county, our community and our church family has been blessed to have known Bill. He has always shown a loving kindness and genuine caring for those around him. He was a true depiction of a humble man. His legacy and sweet smile will never be forgotten! Our hearts go out to the family during this time, however, celebrate a joy for Heaven's gain.
---
Sign the Guest Book for William Austin Lawrence