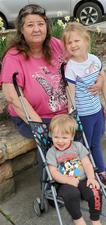 Dreama McNeill Eanes
June 24, 1960 - July 17, 2022
Dreama McNeill Eanes, 62, of Floyd, Passed away Sunday July 17,2022. She was preceded in death by her parents James and Christine McNeill, and husband Bruce Eanes. Dreama is survived by her son Bradley Eanes (Jennifer); daughter, Angela Boyd (Tyler); two grandchildren, Adriana Boyd, Spencer Boyd; two brothers, D.J. McNeill, and Steve McNeill, along with the many kids she was a Mama to. A private service will be held at a later date.
---
Guest book
Lorraine Bell
Claudville VA
July 18, 2022
Sending my Condolences to the family. May Dreama forever R.I.P. To Angie I am so very sorry Hon.
---
Prayers for comfort during the loss of one of the sweetest souls I have ever known!! DREAMA was such a great friend to me!! She loved her family and loved everyone!! I know many hearts are breaking!! God bless her family
---
Clara-Tibby Epperly Martin
Woolwine,VA
July 18, 2022
To DJ, Steve, Brad, and Angela--I am so sorry to hear this sad news. I loved Dreama from her days in my Eng 10 and 12 classes and all her years at Dr Kuiken's and all the genealogical records we shared. She and all of you are my cousins, and my heart is breaking with you. Love and sympathy, Clara Martin
---
Angela Thompson
Floyd
July 18, 2022
I loved knowing Dreama being in sohool with her. She was always so kind and helpful at the Clinic. She will be missed greatly. God bless her family throughout this grieving process.
---
JESSICA SMITH
CHECK
July 18, 2022
With all the love and childhood memories. Will always be remembered.
---
Misty Shupe
Floyd Va
July 18, 2022
Brad and Family, I'm so so sorry to hear about the passing of your wonderful, sweet mother, Dreama. Our family is sending you all lots of love and prayers. Misty, Chris and family
---
Nicole Jones
Floyd
July 18, 2022
My sincere condolences to the family. Dreama was a good and gentle person. She will be truly missed. Prayers for your family.
---
Dwonna Ratcliff
Fairlawn VA
July 19, 2022
Dreama was my triple rainbow. So very unique and beautiful most people don't even know that there's such a thing. Now Dreama was known by so many and loved by all that got to meet her. For me she was my aunt, a second mom, a friend, and one of the most cherished people in my life. I'm selfish for wanting her here but the Lord needed her home. I just want her grandbabies to know how much she loved them and will be watching over them from now on. So I pray that every time someone that knew her and See's one of the grandkids they tell them a story about her and how much she loved them. Lord please give Brad & Angie the strength to get through this and may their grief and sorrow not overwhelm them!
---
Marie Christian
Texas
July 19, 2022
One of the best friends I had in Floyd. Dreama always had a sweet smile that lit up her eyes and a quiet demeanor that belied the many tragedies throughout her life. Her laughter, her willingness to listen, our marathon 2 to 4 hour phone calls filled with jokes or commiserations about all we shared. She called me Huckleberry; I never understood that but it was OK, it was Dreama. We stayed in touch after I moved to TX. It broke my heart to learn last year of her health decline. I will miss my Dreama every day but wow, did she ever give me so many wonderful memories! Her inner strength in the face of so many personal tragedies was truly stunning. She worked hard. She cherished every day with her children and grandchildren. What joy they gave her! Dreama was completely dedicated to her family and their needs. I admire her for that dedication. She surely earned her place in God's good Grace. We are all blessed to have had Dreama touch our lives. Go in peace now, sweet, Dreama. I love you!
---
Jaime Hylton
Stuart
July 19, 2022
I will miss you my sweet Dreamy. We had some good times at the office. I love you. Rest in peace.
---
Tracy and Rosa Lovo
Floyd
July 19, 2022
I was so shocked to hear that Dreama had passed away. She was such a great lady. She always took care of us at the doctor's office and we loved her so much. My prayers and love to the family. She will be greatly missed. We will meet again one day my sweet friend.
---
Sandra Helms
Floyd Va
July 19, 2022
Sorry for the loss of your love one. My prayers are with the family at this difficult time
---
Tony & Liz Ling

July 19, 2022
I'm so sorry prayers for everyone ! We love youll
---
Many prayers for all that knew Dreama. Such an amazing and strong woman.
---
Rose Saunders
Floyd
July 22, 2022
I am so sorry for your loss.Me and Cecil loved Dreama.Your family are in my prayers.
---
Sharon Wood
Copper Hill
August 22, 2022
Brad and Angie and family, I am so sorry, but I did not know of your mom's death until this morning. She was so sweet and kind to everyone. I know she was a rock for both of you, and my prayers for you will continue through the coming months. Love you both, Sharon Wood
---
Sign the Guest Book for Dreama McNeill Eanes