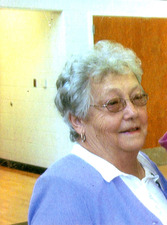 Mabel P DeHart
August 30, 1930 - August 10, 2022
Mabel P DeHart, 91, of Floyd, passed away on Wednesday August 10, 2022. She is survived by her husband, Turner DeHart; son, Roger Pauley (Becky); daughter, Betty Underwood (Ronnie); sisters, Ruth Ann Hall (Jack), Janie Humphries (Kemper); brother, Johnnie Gardner; four grandsons, six great grandchildren and several nieces and nephews. Services will be private. Friends may pay their respects on Friday August 12, 2022, from 10am to 5pm at Gardner Funeral Home. There will be no family visitation.
---
Guest book
Stephanie Seaman
Charlotte NC
August 10, 2022
I am truly sorry for your loss. Prayers for peace and comfort.
---
Kim and Terry Akers
Danville Va
August 10, 2022
Mrs Mabel was a true treasure and I am forever grateful that my kids Zach and Zoe got to know her and she was a part of their lives when they were in preschool.. so many years ago....but she left a true impression. Sending love and light to her family. We hope you all find comfort in all the many lives she touched.
---
Roger Dickerson
Floyd County
August 10, 2022
I'm so sorry for yals lost she was a wonderful woman and mother, I know she will be missed, Roger Pauley I know you and your sister is lost for words but you know yal will see her again in Heaven, she just beat you there, keep her memories in your heart as I did mom and dad and you'll never be alone, God Bless
---
Brian Underwood
Charlotte, NC
August 11, 2022
You will be missed, love your grandson Brian
---
Patty B. Weeks
Floyd, Va
August 11, 2022
The family of Mabel P. Dehart, Mabel was a great lady! I am so sorry for your family's loss. Patty B. Weeks
---
Peggy Wimmer
Check, VA
August 11, 2022
I'm so sorry for the loss of this beautiful lady. She meant a lot to many of us who were graced be her wit and wisdom. Peg
---
Charles Slusher
Lexington, KY
August 12, 2022
Deepest sympathy for your loss. May you find comfort.
---
Kathy Hall
Floyd, Va
August 12, 2022
Prayers for all of the family during the loss of your loved one. I pray that God will give you peace in the midst of this difficult time.
---
Michael and Sarah Browning

August 12, 2022
Sending our deepest sympathy. Keeping you all in our thoughts and prayers.
---
Sharon Hatcher Atkins
Mayodan, NC
August 12, 2022
Betty Sue, Roger and Turner. So sorry to hear about Mabel Passing but know she is having a blast in heaven with all of those that went before here. Mabel was on of my favorite people to visit with my Granny Conner when I was growing up. Thoughts and prayers to all of you from all the Hatchers who know how special she was to us and our grandmother. I always stopped in and seen her what she worked at Angels in the attic. Mabel always made me smile and I know we we all miss that Love, Sharon Hatcher Atkins
---
Terry and Dill Arbogast
Floyd, Va
August 12, 2022
Sorry for your family's loss and you are in our thoughts and prayers
---
Sign the Guest Book for Mabel P DeHart