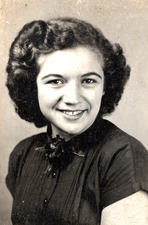 Geneva Phillips Lell
June 15, 1936 - August 10, 2022
Geneva Phillips Lell, 86, of Pilot, passed away on Wednesday August 10, 2022. She is survived by her husband of 72 years, Burlin Tracy Lell; son, Barry Lell (Debbie); daughters, Sherry L. Tannenbaum, Elaina Holmes (Greg), 7 grandchildren, 9 great grandchildren. Numerous nieces and nephews. A graveside service will be held on Monday August 15, 2022, at 1PM at Wilson Cemetery with Pastor Richard Kingery officiating. The family will receive friends Sunday August 14, 2022, from 5PM to 7PM at Gardner Funeral Home.
---
Guest book
Annilee Compton
Dalton, GA
August 12, 2022
Love my aunt and will miss you always. Prayers, love and thoughts for my uncle and his amity.
---
Sharon Phillips Cox Salmons
Ashland, KY
August 13, 2022
Saddened that Aunt Geneva has passed, we wish we could be there with you physically, but my husband had a stroke last year and that limits our travels, hopefully, you will understand. Please know we have all of you in our thoughts, hearts, and prayers. Sending our love to all of you. Sharon
---
Dwayne and Tarri Gauck
Pilot, VA
August 14, 2022
We send our love and prayers to the family and friends of Geneva Lell. She was quite a woman! Being her neighbor for over 30 years has been an honor and a privilege. Some of our fondest memories of Geneva were her visits to fish in our pond. She was a VERY competitive and fun fisherwoman! Boy could she cook! Rest in peace, lovely lady! Dwayne, Tarri, and Megan Gauck.
---
Sign the Guest Book for Geneva Phillips Lell