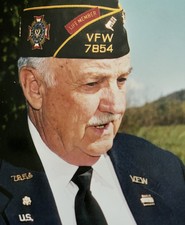 Daniel Worth Lucas
October 30, 1927 - September 23, 2022
Daniel "Worth" Lucas, 94, of Check, VA, passed away Friday September 23, 2022. He retired as a Vocational Teacher after 20 Years of service to the children of Floyd County. Worth served his country in the Korean War. He was preceded in death by a son, David Lucas, and a great grandson, Christopher Lucas. Survived by a wife of 71 years, Mary Lucas; three sons: Donald Lucas (Rachel), Danny Lucas (Donna), and Darren "Joe" Lucas (Misty); ten grandchildren, twenty-nine great grandchildren, and two great great grandchildren, one daughter-in-law: Lynette Lucas. Funeral Services will be Sunday September 25, 2022 at 2:00 PM at Gardner Funeral Home with Pastor James Bradley, Pastor Murry Agee, and Pastor Jeff Dalton officiating. Interment will follow in Restvale Cemetery with Military Graveside Rites by VFW Post #7854 and American Legion Post #127. The family will receive friends Saturday Sept. 24 from 4 until 6 PM at Gardner Funeral Home, Floyd, VA. In lieu of flowers the family request that donations be made to the Floyd County Rescue Squad.
---
Guest book
anthony siimpkins

September 23, 2022
Great man, great teacher, rest in peace Papa Luc.
---
Serena Smith Jacobs
Copper Hill
September 23, 2022
Mary, Joe, Donnie and Danny, I'm so very sorry to hear of Worth's passing. He touched so many lives in more ways that he could ever imagine. He was a wonderful man and will be missed. Sending you all many prayers in the coming days.
---
Patty B. Weeks
Floyd, Va
September 24, 2022
Worth Lucas was a very smart, kind, honest and trust worthy man. He helped many people during his lifetime. I'm sure his family loved and respected him very much. He truly lived a very honorable life. Many thoughts and prayers are with his family. Patty Weeks and family
---
Steven Beaver
Floyd
September 24, 2022
My condolences to the family. Rest in peace," Pappy".
---
Bill and Mary Lou Ford
Porter, TX. 77365
September 24, 2022
Dear Mary and all of the Lucas Family, We are so very, very sorry to hear of the passing of Worth. He was such a wonderful man and full of great knowledge. He has been a great example for generations. We are so glad we had the pleasure of meeting him and spending time with him over the years. We will miss him dearly. We are thinking of all of you. You are in our prayers for comfort and peace. Love you all! Bill and Mary Lou Ford and family
---
Paul Hill
Floyd VA
September 25, 2022
Worth was a great man to me and I'm sorry I can't be there today I have got a grave I am doing for Mayberry's. Worth meant a lot to me and I would have actually quit school if not for him. Praying for the family.
---
Blaine Lucas
Nashville, Tn
September 25, 2022
Peace and love from this branch of the Lucas Tree: Donald William Alexis Lynne Lee Denison Blaine William You are all in our thoughts and prayers.
---
Michael and Sarah Browning
Copper Hill, VA
September 25, 2022
So very sorry for your loss. In deepest sympathy- Michael and Sarah Browning
---
Jeff Bower
Floyd Va
September 25, 2022
One of the best teachers ever at FCHS
---
Sign the Guest Book for Daniel Worth Lucas