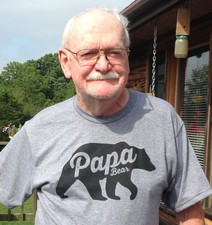 Thomas Allen Connoley Sr.
August 05, 1936 - September 25, 2022
Thomas Allen Connoley Sr. (Tom) of Floyd, formerly of Lindside, WV, passed away September 25th, 2022, surrounded by the love of his two best girls. He was born on August 5th, 1936 to William B and Mary Ellen Connoley. He was preceded in death by both parents, two brothers Donald and William B Connoley II, one sister and brother in law Doris and Richard Fruth, and numerous furry companions. Left to cherish his memory are his devoted wife of 48 years C. Jeanne Connoley, his daughter Kelly Connoley-Phillips and her husband E. Kelley, three grandchildren: Kayla Reed (Dwight), Nathan Phillips (Adella Boone), his namesake Luke Thomas Phillips, and three beautiful great grandchildren, all of Floyd. An eight-year veteran of The United States Airforce, Tom was always a patriot and loved his country deeply. Both he and all the dogs would run for the front porch every time a fighter jet would pass over. He was also a member of The American Legion. As an avid outdoorsman, you could usually find him enjoying nature and he was an expert marksman with both rifle and recurve bow, and he cultivated numerous skills as an Eagle Scout. He served as a longtime member of and then President of the Lindside Volunteer Fire Department for several years and loved serving his community. Family and dear friends meant everything to him, with countless people over the years adopting the name "Daddy Tom". The family wishes to specially thank their many dear friends at Mountain View United Methodist Church in Meadows of Dan, Randall and Sandy Harmon, the members of the Floyd Mystical Witches for bringing meals and smiles, Tracy Turpin, Jamie Wickline, Richard and Marcy Miller and countless others who prayed them through this journey. Funeral Services will be Friday September 30, 2022 at 11AM at Gardner Funeral Home with Pastor Terry Martin Officiating. interment will follow in Duncans Chapel Cemetery. A visitation will be held at Gardner Funeral Home on Thursday September 29, 2022 from 6pm- 8pm. In lieu of flowers, donations can be made to the Lindside Volunteer Fire Department.
---
Guest book
Mark & Pamela Fruth
Aurora, IL.
September 26, 2022
Our thoughts and prayers are with you Aunt Jeanie and Cousin Kelly and your family, love you all!
---
Pat Hammer
Suffolk, VA
September 26, 2022
I'm so sorry to hear about your Dad. You and your family are in my thoughts and prayers.
---
Sally Dillon
Bluefield VA
September 27, 2022
When the one you love becomes a memory, the memory becomes a treasure. We'll have to gather one day and share all the funny and wonderful stories of a life lived to the fullest. Remember, we did that with Uncle Gordon. I believe families are forever. Take comfort in all the joyful moments ya'll had. Love...Sally
---
Sign the Guest Book for Thomas Allen Connoley Sr.