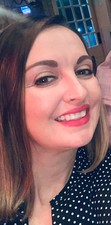 Jessica Nicole Overstreet
September 24, 1986 - October 04, 2022
Jessica Nicole Graham Overstreet, born September 24, 1986, passed away on October 4, 2022. Jessie was a loving mother, that was known for her laugh and contagious smile. Her work ethic was almost OCD. She had a huge heart that was shown through numerous friends that she touched through her life. She will forever be remembered by all that knew her. She loved all outdoor activities and especially the Dallas Cowboys. If our love could have saved you, you would have lived forever. She is preceded in death by her granny Barbara Graham, Aunt Letha Graham, and cousin, Hannah Moore. Jessica is survived by four children, Logan Marsolek, Jacob Overstreet, Tristan Overstreet, Waylon Overstreet; father, Kenny Graham Jr. (Kathy); mother, Patricia Gordon; grandfather, Kenneth Graham Sr; grandmother, Louise Simmons; sisters, Jennifer Roshak, Tonya Duncan (Corey), Kasey Flores (Reuben), Lauran Holmes (Shane); brothers, Ian Graham (Megan), Matthew Bishop (Maria), Chase Graham (Tiffany). nieces and nephews, Kaitlyn Pierson, Madison Pierson, Lucas Roshak, Payton Simmons, Emerson Duncan, Harper Duncan; along with many aunts, uncles, nieces, nephews, and cousins. Funeral service will be held on Saturday October 8, 2022, at 7pm at Gardner Funeral Home. The family will receive friends from 5pm-7pm before service time. Flowers are appreciated or the family asks you to make a donation to St. Jude's Children Hospital or the Bedford Co. Animal shelter in Jessica's name.
---
Guest book
Melissa Smith
Ferry NC
October 06, 2022
You will be missed dearly little one RIP love you
---
Heidi Kopczenski
Gretna, Va
October 06, 2022
I'm so very sorry for your family's loss. Loosing my daughter, Ashlee Rose 17, This past March, I completely understand this pain. There are no words that can make this feel less painful. But do know, I can listen if ever needed to. I understand and am sending true love to you all.
---
Mary Roberson
Roanoke
October 06, 2022
Some people come into our lives and leave footprints on our hearts and we are never, ever the same. Jess, little do you know you have left footprints in SO many HEARTS! Rest in Heavenly Peace Sweetie. You will NEVER be forgotten. Gone Way Too SOON!
---
Shelby Throckmorton
Va. Beach, Va.
October 06, 2022
My thoughts and prayers go out to the family. I am so sorry for your loss. I enjoyed the times we spoke when she was living with Barbara and Kenneth. God bless the family and may she rest in peace.
---
Jen Hall
Wilmington. NC
October 06, 2022
I will not be able to be at the funeral but wanted the family ESPECIALLY her children to know that being part of her work family, her heart, no matter what she had going on in her own life, was open to everyone around her who needed it. Those who knew her already knew that. When you have a special bond with people who share no genetic commonalities, it's a different bond. She was there for us because she wanted to be and not because she had to be or because that's what she was expected to do. My heart breaks for her children and it's my hope they find peace in the fact that they were her world. She can live in their hearts forever, using her strength to guide them & let her spirit live on through their success. My thoughts are forever with all who miss her most, & I'm terribly sorry for your loss.
---
Lora Pierson
King George
October 07, 2022
Such a beautiful woman gone too soon. We are sending prayers to her children, sisters and parents at this very difficult time. May she rest in Paradise.
---
Patty, Taz, Brianna Simmons
Hershey, PA
October 07, 2022
You will be missed. God has a beautiful angel. We love you
---
Logan Marsolek
Radford
October 08, 2022
heaven knows the angel they gained ma. your smile and laugh was everything. until we meet again, i love you.
---
Bobbi Jo and Family
Bossier City, LA
October 08, 2022
You will be greatly missed here on earth sweet Jessica. I pray for all of those affected by this sudden loss. I am praying the loudest for your mom, father, sisters, nieces/nephew(s) and most importantly your beautiful children. It's never easy to grasp such a devastating loss when you are trying to be a believer in Christ. I do however know with out a shadow of a doubt that Jessica is now in a place where she feels no pain, suffering, heart ache and sadness. She is walking along side of her Heavenly Father and I can't think of a better place to be. I know that does not take away any of the pain that everyone is feeling right now. However, I pray that we all can find comfort in knowing that one day we too will be walking alongside our Heavenly Father with Jessica. I that you are getting to hold sweet Hannah. I hope that Letha is there cracking jokes with you already. I hope my daddy was there to wipe your shoes before you crossed through those pearly gates (if you know papa, my dad , he always had a paper towel in his back pocket to clean the little ones feet before they came inside from playing. I hope you got the biggest welcome from your Granny. I hope that all of the loved ones that made it there before you are dancing in the sky with you. We love you Jessica and we will always miss you. Until we meet again
---
Sign the Guest Book for Jessica Nicole Overstreet