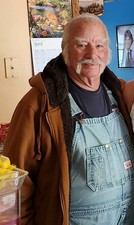 Jimmie F Anders Sr.
February 21, 1944 - October 19, 2022
Jimmie F. Anders Sr. 78, of Willis, passed away on Wednesday October 19, 2022. Jimmie was preceded in death by his wife, Charidy Anders; parents, Fred, and Easter Anders; son-in-law, Richard Mager, two brothers, and one sister. Jimmie was a man with a big heart and a deep love for his family. He was a dedicated family man that worked hard his whole life to provide for them. Jimmie had a love for all animals and farming brought him great joy in life. He is survived by children, Jimmie F. Anders Jr. (Marlynn), Martin Lee Anders (Ruth), Sherrie Mager; grandchildren, Michael Anders, Ronnie Keith Jr., Jimmie Anders III, Mason Anders, James Mager, Galen Mager, Ian Anders, Charles Anders, 4 Great grandchildren, three sisters, Teresa Luckado, Shirley Billings, Shelia Anders; along with numerous nieces and nephews. A memorial service will be held on Sunday October 23, 2022, at 2pm at Gardner Funeral home with Pastor Frank Jones officiating. Family will receive friends one hour prior to service time. Flowers are appreciated or a donation may be made to a charity of your choice in memory of Jimmie.
---
Guest book
Julia Stewart Milton
Christiansburg, VA
October 20, 2022
The world has lost a good, good man and it is not nearly as good a place without him in it. Jim was always one to smile and try to look on the brighter side of things. No matter what the problem was, he just always smiled and got on with trying to fix whatever was wrong. And heaven knows there were always plenty of problems to work on. I don't know what brought him and your mom into our lives, but I do know how much they brought to ours. And I'll always be so thankful. I'm thinking of you all ! I know how much he meant to your family. But I also know how much each of you meant to him! He loved you ALL! Remember that! With deepest sympathy, Julia Stewart Milton And all of the Milton family Stewart, Joseph, Zach, and Stiles
---
To The Anders Family, I am sorry to learn of your loss of Mr. Anders, may God be with each of you in the coming days, cherish all of your wonderful memories of him and know that you will see him again over there along with others who have gone on before in a much place than we are today. God bless each of you and take care of one another, please continue to be safe. Lorrie Atkinson-Mims Murrells Inlet, SC
---
Sign the Guest Book for Jimmie F Anders Sr.