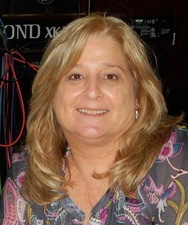 Anita Whitlock Wimmer
July 26, 1963 - November 04, 2022
Anita Whitlock Wimmer, 59 of Floyd, VA, passed away peacefully on Friday November 4, 2022, at Roanoke Memorial Hospital surrounded by her family. She was preceded in death by her husband, Ashley Brent Wimmer; niece Megan Radford; brother-in-law, Freeman "FM" Slusher. She is survived by her parents, D. McLane "Mac" and Priscilla Whitlock; stepdaughter, Elisha (David) Donahue; grandchildren Aysha and Amaya Alton, Lillian "Lilli" and David "Brent" Donahue; sisters, Donna Slusher and Shari Whitlock; nephews, Joseph "Joey" Slusher, Logan (Chelsea) Slusher, and Derek Radford; great nephews and niece, Austin, Caleb and Kinley Slusher, special friend Deanna (Steve) Wentz. After graduating from Virginia Tech with a bachelor's degree in Accounting, Anita began her career as a Certified Public Accountant at Deloitte and Touche in Roanoke, VA. In 1993, she began working at Stanley Furniture in Martinsville, VA, progressing in various roles until her retirement, as Vice President of Finance after 25 years of service. After her retirement until she passed, she maintained a position of Controller at Rockwood Specialties, LLC. Anita enjoyed spending time with family, friends, and going to her husband's band performances. Family and friends remember her as being loving, caring, free-minded, and educated person to be around. She could light up any room with her laughter and enjoyment. She spent her retirement years with Ashley building their forever home in Floyd, VA, to be closer to family and friends. Family will receive friends on Friday Nov. 11, 2022, from 5:00 PM until 7:00 PM at Gardner Funeral Home, Floyd, VA. A Memorial Service will be conducted on Saturday Nov. 12, 2022, at 11:00 AM at Floyd Presbyterian Church with Rev. Robert McLavey officiating. In lieu of flowers, please consider a donation to the Susan G Komen Breast Cancer Foundation.
---
Guest book
Gary Hodges
Rocky Mount Va.
November 07, 2022
Anita will be greatly missed. I worked with her at Rockwood an got to know her I could talk to her about anything. She was a very understanding lady an a great friend.
---
Pamela Thomas
Traveling the Country in our RV
November 09, 2022
I had the pleasure of knowing Anita for many years and worked closely with her as a member of WithIt and time service supporting the BOD of that organization. She always had a compassionate heart and a strong mind and I will miss knowing that I might see her again while I am on this earth. Bless her family in this time of mourning and thank you for sharing a small part of her life with WithIt and the furniture industry.
---
Lark Shirley-Stevens
Harrisburg, PA
November 09, 2022
Anita was a sharp, rock solid person and I appreciate the time we spent serving on the same board. She performed a tremendous service shepherding WithIt to financial stability while the leadership was in transition.
---
Annette Mills
Salem, VA
November 09, 2022
Anita was my sister-in-law but I thought of her more as a sister. She was such a beautiful person inside and out. Her smile and laughter lit up the room. I admired her and Ashley's marriage and family. She will be greatly missed. Rest in Peace Anita.
---
Phyllis and Sherrell Poff
Willis, Va.
November 09, 2022
---
Bertha Koonts
Supply, NC
November 10, 2022
Deepest sympathy to Anita's family and friends. Most particularly to her parents, who should never suffer the loss of a child. I worked with and for Anita for many years at Stanley Furniture and have always regarded her as a friend. Highly respected and sadly missed.
---
Amy Van Dorp
High Point, NC
November 10, 2022
Our dear friend Anita served as treasurer for WithIt - women in the home industries today - during her time in High Point, NC. We appreciated her no-nonsense approach, her calm and steady demeanor and her sincere care for the people around her. We have missed her since she moved home. We hold her family in Floyd in our prayers.
---
Sign the Guest Book for Anita Whitlock Wimmer