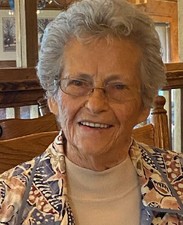 Geneva Irene Hollandsworth Gallimore
December 17, 1923 - November 25, 2022
Geneva Irene Hollandsworth Gallimore (98) of Floyd, passed away peacefully in her home on November 25, 2022. She was born on December 17, 1923, in Indian Valley, Virginia. She is preceded in death by her husband of 56 years, Vinton Gallimore; parents Tazwell and Ocie Hollandsworth; sisters Winnie Dalton, Beulah Quesenberry, Lilas Webb, Nina Browning, Anita Quesenberry, and son in law Earl Aldridge. Irene is survived by her 7 children Mauyer (Brenda) Gallimore, Lorraine (Mitch) Bissette, Glenn (Betty) Gallimore, Margie (Don) Sabo, Cathy Aldridge, Alvin (Kay) Gallimore, Ronnie (Karen) Gallimore; 12 grandchildren April (Darrell) Hylton, Matthew (Kate) Gallimore, Melanie (Bill) King, Rusty (Robin) Bissette, Richie (Emily) Gallimore, Michael (Laura) Gallimore, Manoca (Brian) Simpkins, Willie (Alisha) Sabo, Chad (Tiffany) Aldridge, Landon (Elizabeth) Aldridge, Amanda (Eric) Janney, and Tyler Gallimore; 27 great grandchildren, 15 great great grandchildren; sisters Vada Cox, Josephine Alderman, Brenda (Russell) Howell, Wanda (Duane) Grubb, Martha (Jimmie) Bower, brother Ren Hollandsworth, brother in law Connie Browning, and many nieces and nephews. Irene was a kind, sweet, gentle hearted woman who was loved by so many. She had many loves throughout her life such as gardening, quilting, cooking, and reading to name a few. However, there was no greater love than what she held for her husband, children, her ever growing family, and especially her Lord and Savior Jesus Christ. She was a devoted church goer, a member of Beaver Creek Church of the Brethren, for over 60 years. Sunday was the day that she held most special because that was the day she could spend inside the house of the Lord giving praise and then return to her own home to cook Sunday dinner for her family which she put so much love into you could taste it in the gravy. She always looked forward to traveling with her family whether that be with everyone on the annual beach trip or on a Mother's Day trip with her daughters. The stories alone she could tell from these trips were enough to make the hardest of hearts laugh uncontrollably. She had a thirst for knowledge. Growing up she could only go through 7th grade in school. When she reached that milestone, she chose to go another year because in her words, "I heard there was going to be a new teacher the next year and I wanted to learn from that teacher, so I repeated the 7th grade!" She also read every day until her sight could no longer provide her with what she needed to see and even then she did her best to find a way to keep that knowledge coming in. Irene had a gift for touching the lives of everyone she encountered. She had an uncanny ability to find the goodness in all people and would not allow you speak ill of anyone. She also made sure that if you came to visit you were fed or were at least offered something to eat. No one was allowed to leave her house hungry, no arguments. Her love and care extended far beyond her family and she wanted to make sure it was felt. Therefore, we as a family would like to extend our deepest gratitude to every single person that has sent condolences our way. They have been felt more than you know. We would also like to thank Carilion Clinic Hospice Care and her hospice nurse, Becky Hignutt, for helping take such good care of her. Our lives are forever changed, but we are at peace knowing that we have gained another angel above us. Funeral services will be Monday November 28, 2022 at 2:00 PM at Beaver Creek Church of the Brethren, with Pastor Eddie Dale Gallimore, Pastor Marvin Wade, and Pastor Richard Thomas officiating. Interment will follow in the Church Cemetery. The family will receive friends Monday November 28, 2022 at the Beaver Creek Church of the Brethren from 11:00 AM until service time. Online condolences may be made at gardnerfuneralhomefloyd.com. Gardner Funeral Home is serving the family. Online condolences may be made at gardnerfuneralhomefloyd.com. Gardner Funeral Home is serving the family.
---
Guest book
Beth Simpson Huddleston
Winchester, VA
November 26, 2022
This wonderful lady lived a beautiful life that was a tribute to her beliefs. I shall always remember afternoons at her house as we gathered to change into our cheerleading uniforms before a game. She treated us as family and made sure she fed us well before we headed out for the evening. I know she loved her family dearly, and I am so sorry for the loss you are feeling at this time. Praying for each of you.
---
Shirley Phillips
Indian Valley, VA
November 27, 2022
What a sweet, sweet, lady! Always a smile on her face! The obituary described her to a T! She always welcomed me, my mom, aunts, and sometimes my cousins to her home and wanted to know when we were going to come back and visit again. I know you, her family, will miss her greatly!! With love & sympathy, Shirley & Doug
---
Brenda Elliott
24380
November 27, 2022
---
Denise Farris
Roanoke Va 24018
November 27, 2022
Dear Margie and Cathy and families My deepest sympathy goes out to all of you. What a great joy and blessing I received from getting to visit and get to know Irene with Kaye and Tommy and Isabel,she always welcomed me with open arms and always hugged me when we left. May God wrap his arms around all of thru the days ahead. Denise
---
James Boswell
Virginia Beach, VA
November 27, 2022
She was a sweet lady and she will be missed.
---
Richie Gallimore
Blacksburg, VA
November 27, 2022
Love of God and family is the greatest legacy. Love you forever and back Granny. We'll see you aging one fine day
---
anthony siimpkins

November 28, 2022
So sorry for yall's loss, she was a great woman.
---
Lisa A Simpkins
Davidson NC
November 28, 2022
My sincere condolences to the family and friends. Irene was such a wonderful, kind person and I feel privileged to have known her. She will be missed. God Bless.
---
Charles Slusher
Lexington, KY
December 04, 2022
Deepest sympathy for your loss. May you find comfort.
---
Sign the Guest Book for Geneva Irene Hollandsworth Gallimore