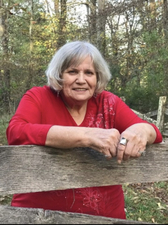 Brenda Roberson Huff
July 17, 1946 - December 03, 2022
Brenda Roberson Huff, 76, of Floyd, went to be with the Lord on Saturday December 3, 2022. She was preceded in death by her parents Eldon and Catherine Roberson and Sister Nancy Roberson. Brenda is survived by two sons, Brian Huff (Pamela), Jamie Huff (Ashley); grandchildren, Austin Huff, Colin Huff, Johnathan Offenberger, Kaydin Offenberger, Kara Offenberger, Sadie Huff, Meleena Blevins; great-grandchildren, Addison Blevins, Paisley Huff, Maverick Huff, Mason Huff; sister; Kathy Conner; special cousin, Shirley Rose. Funeral Service will be held on Tuesday December 6, 2022, at 2PM at Gardner Funeral home with Pastor Roy Turpin and Pastor Todd DeBord officiating. Interment will follow in Lee Cemetery on RT 615. The family will receive friends from 12PM noon to 2PM prior to service time. A meal will be provided at the home of Jamie and Ashley after the service. The family would like to express heartfelt thanks to Medi Home Hospice and Hillsville Health and Rehab for the care and compassion they showed for their mom.
---
Guest book
Shirley Yeatts
Floyd
December 05, 2022
Brenda was a very caring and loving person
---
Ben Harmon
Olive Hill, KY
December 05, 2022
I'm saddened to learn of Brenda's passing. I consider her a close friend extending way back into grade school (at least as far back as 3rd grade). We graduated as members of FCHS Class of '64. Many prayers for her family and friends.
---
Shirley Phillips
Indian Valley, VA 24105
December 05, 2022
Jamie (Ashley), We are so sorry to see that your mom has passed away. All of you are in our thoughts and prayers. With love and sympathy, Shirley & Doug
---
Patty Weeks
Floyd, Va
December 06, 2022
We were so sorry to hear of Brenda's passing. She was a very good person and a wonderful friend. Our thoughts and prayers go out to all the family. Patty Weeks and Family
---
Sign the Guest Book for Brenda Roberson Huff