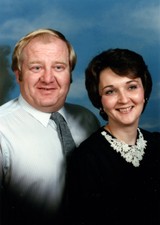 Larry James Reed
August 05, 1945 - December 06, 2022
Larry James Reed, 77, of Floyd, passed away on Tuesday December 6, 2022. He was born in Floyd County on August 5, 1945, to the late Seth and Louise Reed. Larry is also preceded in death by his brother, Kenneth Reed. Larry retired from Hubbell Lighting to pursue his love of fishing, hunting, and doing nothing. He is survived by his wife of 53 years, Joyce Huff Reed; son, Timothy James Reed (Kathy); granddaughters, Kristine Reed, Coleen Reed; best friend, Nugget; brother, Donnie Reed; nephews, Scott Reed, Kenny Reed; and niece, Tammy Reed Waters. Funeral Service will be held on Friday December 9, 2022, at 2PM at Gardner Funeral home. Interment will follow in Beaver Creek Cemetery. The family will receive friends from 12PM noon to 2PM prior to service time.
---
Guest book
Sandra & David Ratliff

December 07, 2022
So sorry for your loss. Prayers for the family.
---
Ben Harmon
Olive Hill, KY
December 08, 2022
So sorry to learn of Larry's passing. I remember him well as a member of FCHS Class of '63. Many prayers of condolence and comfort for his family and friends.
---
Gary Blackwell
Pilot Virginia
December 09, 2022
Larry was a great guy. I had the pleasure of going on a hunting trip to Colorado in 1986 with him. Had a lot of laughs and a bunch of good memories. He was a class act and a good all around fellow.
---
carol wimmer

December 10, 2022
worked with Larry for years at Hubbell and I am sorry for your loss. My husband was friends with Larry also
---
Roy West
The Villages, FL
December 12, 2022
To Larry's family. I am saddened to read this. Larry was a friend in High School and his brother Kenneth was an even closer friend. So sorry for your loss and for the loss of everyone who knew him then and now.
---
Sign the Guest Book for Larry James Reed