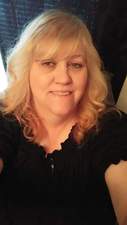 Debra Sue Patsel
October 24, 1958 - December 18, 2022
Debra Sue Patsel, went to be with the Lord on Sunday, December 18th, 2022. She was born on October 24th, 1958. She's proceeded in death by her mother, Shirley Weddle, brother, Jeff Weddle, and step mother, Juanita Weddle. She's survived by her father, Freddie Weddle, Husband, Carl Patsel, Sister, Carol Sutphin (Jerry). Step brother, Terry Warf. Daughters, Vanessa Womack (Cleveland), Valerie Spangler (Jeremiah). Nieces and Nephews, Travis Weddle (Kimberly), Jacob Griffith, Alyssa Knowles (David), Zachary Griffith (Paige). Grandchildren, Colton Womack, Harley Womack, Valynn Poff, Jolene Poff. Numerous great nieces and nephews. Special friend Nina Battle. Sue enjoyed working at Pannel, Cross Creek, Skyline Rehab, Lewis Gale Hospital, Dish, and her current job at MTM. She loved to help people and would do everything she could to help. Helping people brought her the most joy. Her grandchildren were her world. She enjoyed time with family and friends and would spend the most time she could with them. Funeral service will be held Wednesday, December 21st, 2022, 11:00am at Gardner Funeral Home with Pastor Clyde Bishop officiating. Interment will follow in in Pleasant Valley Cemetery. The family will receive friends one hour prior to service time.
---
Guest book
Terrance Vaughn-Kessler
Washington, DC
December 19, 2022
My family is thinking of you and keeping you in our prayers during this difficult time. Sincerely, Terrance Vaughn-Kessler & Gina Pogue
---
Helen Colp
Christiansburg Va
December 19, 2022
There are new words to express how sorry I am for your loss. My prayers and warm thoughts are with your family.
---
Carol
Willis, VA
December 19, 2022
I will miss you Sis. You were the best big sister and I have so, so many memories with you. Tell Mama and Jeff hello and enjoy your Christmas with them. We will all be together one day and the circle will not be broken. Love you so much.
---
Pamela Slaughter
Floyd
December 20, 2022
Thinking of you all. So deeply sorry for your loss. Wishing you much care during this difficult time.
---
Gary Stone
Chokoloskee FL
December 21, 2022
So sorry to hear the news Carol. We'll have you in our thoughts and prayers.
---
Sign the Guest Book for Debra Sue Patsel