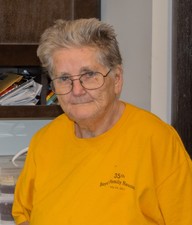 Catherine Darlene Boyd Quesenberry Farmer
April 25, 1941 - December 21, 2022
Catherine Darlene Boyd Quesenberry Farmer, born 4/25/41, passed away on 12/21/22 in Florence, SC. She was predeceased by two sons, Gerald Quesenberry and Darryl Quesenberry, her parents, James Colen and Laura Boyd, two brothers and sisters-in-law and one sister. She is survived by her sister, Rachel Nadine Akers; special friend and caregiver, William "Bama" Nettles; 25 nephews, nieces and spouses; 23 great nephews, nieces and spouses; several great-great nephews and nieces. She is also survived by a son, Steven Quesenberry, two granddaughters and a great-grand child. She loved her sister and nieces and nephews. They were the joy in her world. She enjoyed quilting when her hands would allow and was an avid reader. She was always generous with her smiles and hugs as well as her opinions. Although she had lived in SC for the past several years, she made trips home regularly to be at family birthday parties and holiday celebrations or just for a big old dose of family loving – both given and received. A Celebration of Life is planned for Sunday, January 8, 2023, at 2 pm at Laurel Branch Church of the Brethren, Floyd, VA. In lieu of flowers, please consider a donation to the Marlboro County Rescue Squad, PO Box 123, Bennettsville, SC 29512, or your local Rescue or Fire Departments.
---
Guest book
Sonya S St. Jacques
Bob Air, Virginia
December 29, 2022
I had lost touch with Darlene after reconnecting several years ago. I am truly saddened to hear of her passing. Darlene was a part of my youth and I remember her fondly. My sincerest respects to all the family. Sonya Sisson St. Jacques
---
Renee Petrucci
St Petersburg, FL
December 29, 2022
My sincere condolences to Darlene's family and friends. May you, Rest In Peace, Darlene.
---
Tuesday Quesenberry

December 29, 2022
I'll always remember catching fireflies and riding horses in VA. She passed on her love of unicorns to me. May she rest peacefully.
---
Renee Petrucci
St Petersburg Florida
December 30, 2022
Rest In Peace, Darlene. My Sincere condolences to family and friends.
---
Shirley Phillips
Indian Valley, VA
December 31, 2022
Nadine & girls, I was so sorry to hear that Darlene has passed away. Lots of good memories back when we all met the bus at the intersection of Macks Mt. Rd. & Slaughter Hill. Your mom and Dad were very good neighbors to all of us! I know you will miss Darlene very much, but just think of all the good times you all have had with her! All of you are in our thoughts and prayers, Shirley & Doug
---
Sign the Guest Book for Catherine Darlene Boyd Quesenberry Farmer