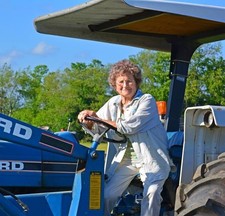 Virgie Ellen Reed Quesenberry
September 17, 1924 - December 31, 2022
Virgie Ellen Reed Quesenberry, 98, of Floyd, passed away December 31, 2022. She was preceded in death by her husband, Harless; parents, Kyle and Pearl Reed; and brothers, Calvin and Marvin Reed. The oldest of four children, she graduated from Floyd High School and went to work at Imperial Reading. Virgie later married Harless and together they bought a farm and raised two girls. After his death in 1991, she maintained her farm and loved watching her cattle. Later, her favorite son Gary, helped her with the farm. Virgie was a member of Beaver Creek Baptist Church where she was a Member Care Volunteer, sending cards for all occasions and to anyone in need. She was blessed with the best neighbors who kept watch over her, called, and visited often. She is survived by her daughters, Shelby Quesenberry (Danny) and Vicky Gillespie (Gary); grandchildren, Angela (Julie), Mike and John Quesenberry, Phillip (Mandy), and David (Megan) Gillespie; great-grandchildren, James, Brooke (Alan), Zack, John, William, Adalynn, Camden, Palen, Audrey, and Reagan; great great-grandchildren, Tanner, Levi, and Clover; a loving sister, Lula Mae Sowers; and special family members, Cobern and Louise Quesenberry and Evelyn Reed. Her special kitty, Nosey. Funeral services will be at Beaver Creek Baptist Church, 1647 Beaver Creek Road, Floyd with Pastor Shannon Hicks officiating on Wednesday, January 4, 2023 at 2 pm. The family will be present at noon to receive friends at the church. Interment will follow at Beaver Creek Church of the Brethren Cemetery on Ridgeview Road. In lieu of flowers, please consider donations to the Beaver Creek Baptist Church. The family would like to express sincere thanks for all acts of kindness during mom's illness and special thanks to Good Samaritan Hospice for their loving care. I have fought the good fight, I have finished the race, I have kept the faith. 2 Timothy 4-7.
---
Guest book
Alisa Boothe
Floyd
January 01, 2023
So sorry for the passing of Virgie although 98 years is certainly a full life, to be sure. Virgie was quite a character, funny when she meant to be and even when she didn't mean to be. My dear friend, Vicky, is much like Virgie was - just a pleasure to be around, one of a kind. Virgie always made me feel welcome in her home. She was a humble, down to earth woman, and I am blessed to have known her.
---
Sue Blackwell
Pilot, Va.
January 02, 2023
Virgie was a good friend to my mother in law, Ruth Blackwell. I lost Ruth on 2/14/22. I loved calling Virgie and talking to her...didn't know she had been sick. So sorry to hear of her passing. Prayers for her family.
---
Carl weeks

January 02, 2023
What a beautiful life she had. God be with her.
---
Sign the Guest Book for Virgie Ellen Reed Quesenberry