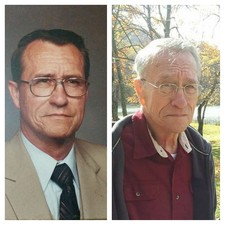 Joseph Wade Dillon
October 24, 1930 - January 12, 2023
Joseph Wade Dillon, 92, of Floyd, VA. Died on Thursday, January 12, 2023. He was born on October 24, 1930, in Beckley, WV. He was the son of the late Dennette Akers Dillon and Richard Garth Dillon, Floyd, VA. Joe was a dedicated father and grandfather who raised his family in Roanoke, VA. He enjoyed taking his children on hikes, playing games, and set aside his night off to watch TV with the Family. Each Sunday he took his wife and children to Church. Family was very important to him. He taught his children that in order to succeed in this world, to preserver through all trials and he led by example. Always a gentleman, he put others first. He was a kindhearted and generous man who was ready at all times to lend a hand. He was known by his sense of humor and enjoyed playful teasing people and being teased in return. Joe served in both the Navy (stationed in Newfoundland) and In the Army on Adak in the Aleutian Islands. His time in the military led to a successful career as a diesel and heavy equipment mechanic. He was a master in his field and sought out for his excellence. At retirement he returned to live in Floyd where he was raised. He enjoyed working outdoors and stayed busy on his farm. He liked planting and working in the large garden, hunting, fishing and did beautiful leather work. Joe is survived by his brother, Max Dillon (Frances) of Radford; children, Elaine Dillon Weaver of Thaxton, VA., Carolyn Dillon Jackson (Tom) of Spartanburg, SC., JoEllen Dillon Brock (David) of Gurnee, IL., Richard Dillon (Jennifer) of Roanoke, VA. He also leaves behind 14 grandchildren, 44 great grandchildren, and 6 great-great grandchildren, three sisters-in-law, Elnora Markle, Aldeen Markle, and Wanda Markle. He was preceded in death by Mary Elizabeth Markle. Funeral Service will be held on Monday January 16, 2023, at 1pm at Gardner Funeral Home with Pastor Roy Turpin officiating. Interment will follow in Jacksonville Cemetery. The family will receive friends one hour prior to service time.
---
Guest book
Leah Markle Grossi
Rancho Palos Verdes, CA
January 15, 2023
My Uncle Joe. Memories of family breakfasts (he was the master pancake maker!), the Hatteras, N.C. trailer, fishing, family summer beach vacations, and more! He was part of the greatest generation and part of my life. May you have smooth sailing as the sun sets upon this chapter, surrounded by love and peace. God Bless and much love.
---
Sign the Guest Book for Joseph Wade Dillon