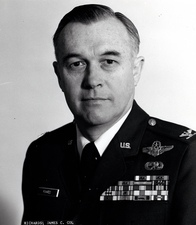 Col. James Cooper Richards
November 04, 1939 - January 11, 2023
COL. JAMES COOPER RICHARDS, 83, of Check, Virginia, earned his Angels' Wings on January 11, 2023. Jim was born on November 4, 1939, in Chester County, Pennsylvania. He was preceded in death by his parents, Col. Frederick W. and Dorothy C. Richards and grandson, Jacob Marion. Jim graduated from Washington-Lee High School in Arlington; received a BA in History and Economics from Virginia Military Institute in 1962; and achieved an MBA from New Mexico Highlands University in 1978. Jim is survived by his loving wife of 54 years, Florine Barnard Richards; daughters Kim Huerta (Tony) of Boise, ID; Dee Marion of Elizabeth City, NC; sisters Sally Dorr (Fred) of Jasper, GA; Susan Nunally of Mosely, VA; and brother Bill Richards (Teresa) of Roanoke. He is also survived by grandchildren Sonjia Clifton (Jeff) of Elizabeth City; Dustin Huerta (Lori) of Boise; Brandon Huerta (Katie Jo) of Boise; and Rachelle Jaeger (Brad) of Boise; great grandson, Caleb Burley, Charleston, SC; and several nieces and nephews. Col. Richards began his military career in 1957 when he enlisted in the Virginia National Guard. He received his Air Force Commission as a distinguished graduate of the Air Force ROTC Program. His first operational assignment was to the 346th Troop Carrier Squadron at Dyess Air Force Base, Texas, where he flew C-130 aircraft. From 1966 to 1967, he served as an instructor navigator with the 774th Troop Carrier Squadron at Mactan Air Force Base, Philippines. He was reassigned in March 1967, to the 38th Tactical Airlift Squadron, Langley Air Force Base, Virginia. In May 1969, he joined the 27th Tactical Fighter Wing, Cannon Air Force Base, New Mexico, serving initially as a wing operations officer and then later as an instructor weapons system officer in the F-111E with the 481st Tactical Fighter Squadron. In October 1970, he became a Radar Strike Officer. He was in the initial air crew cadre and a member of the operational test and evaluation team for the F-111D. Col. Richards was assigned to Kirtland Air Force Base, New Mexico, as test manager for precision location strike systems in the Air Force Test and Evaluation Center. In February 1979, he became the Assistant Director of Test Evaluation. Transferring overseas in June 1979, he served as the Chief of the Offensive Operations Division, 48th Tactical Fighter Wing, Royal Air Force Station, Lakenheath, England. In February 1982, he became the Assistant Deputy Commander of Operations. Returning to the US in November 1982, he was assigned to Mountain Home AFB, Idaho, as the Deputy Commander for Maintenance. From June 1986 to September 1988, he served as the Deputy Chief of Staff, Logistics, Headquarters 3rd Air Force Base, RAF Mildenhal, England. Jim was promoted to Colonel April 1, 1983. In his final role, Col. Richards served as the Assistant Deputy Chief of Staff, Logistics, Headquarters Air Combat Command, Langley AFB, Virginia. Col. Richards was a master navigator with more than 3,900 flying hours, including 733 combat missions in Southeast Asia. His military decorations and awards included the Legion of Merit, the Meritorious Service Medal, Presidential Unit Citation, Combat Readiness Medal, Armed Forces Expeditionary Medal, Vietnam Service Medal, Air Force Longevity Service Ribbon, Small Arms Marksmanship Medal, Republic of Vietnam Cross of Gallantry, and the Republic of Vietnam Campaign Ribbon. Upon entering civilian life, Jim and Flo moved to Bavon, Virginia in Mathews County. In 1994, they relocated to their beautiful homestead in Check, Virginia. Jim worked for Allstate Insurance Company as a Special Investigator and later worked in his family business, Richards & Associates in Salem, Virginia. Jim loved shooting sports, gardening, reading, was a computer enthusiast, and a family historian. He was an active member of Presbyterian Church of Floyd. He was an ordained ruling elder in the Presbyterian Church (U.S.A.), one of only three offices of the church. He served numerous times as a member of the session, which oversees the administration and finances of the church. At the time of his death, he was the chair of the finance committee. In the past, he had been a Sunday School teacher for youth, and he served on the Pastor Nominating Committee. He was also a friend and guide for numerous pastors and always volunteered for those special projects that make a church function. Beyond his many talents, to his family and friends, he was our beloved Jim, Dad, Paps, UJ, or Jimmy. In lieu of flowers, please consider a donation to The Presbyterian Church of Floyd, 169 Newtown Road NE, Floyd, VA 24091; or the VMI Foundation, 304 Letcher Ave., Lexington, VA 24450. A memorial service will be conducted on Friday, January 20, at 11:00 am at The Presbyterian Church of Floyd, 169 Newtown Road NE, Floyd, VA. At 3:00 pm, a military service will be held at the Southwest Virginia Veterans Cemetery, 5550 Bagging Plant Road, Dublin, VA. Arrangements by Gardner Funeral Home, Floyd, Virginia.
---
Guest book
Edmund Strickler '62
Staunton, VA
January 15, 2023
Jim, You were a good friend and Brother Rat. You will be missed by all who knew you. See you on the other side, my friend.
---
Walt & Terri Moss
Bradenton, FL
January 15, 2023
Col. Jim, While the Lord came and took you under his wing, the memories and your wisdom will never be forgotten. The lives and hearts you touched along your 83 year journey will never fade away. Our thoughts and prayers go out to Flo and the family during this time of bereavement. May God rest your soul and you rest in eternal peace. Walt & Terri Moss
---
Betty & Linda Mountcassell
Copper Hill
January 18, 2023
Flo Deepest Sympathy to you and your family. Jim touched so many lives. A blessing to so many. Jim will be missed.
---
Sign the Guest Book for Col. James Cooper Richards