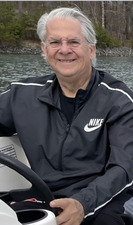 Paul Joseph Davidson Jr.
October 20, 1954 - February 05, 2023
Paul Joseph Davidson Jr., 68, of Moneta, Virginia, passed away suddenly on February 5th, 2023. Paul lived life to the fullest with his wife, Laura. They would have celebrated their 25th Anniversary in March. He will be forever remembered as a kind, joyful man who loved his family and friends. He had a generous spirit, endless patience, and the uncanny ability to evoke laughter in nearly any situation. He is survived by a large and loving blended family including children, Jessica Kelley, husband Ian, daughter Miriam; Joe Davidson, wife Michelle, their children Joseph, Micah, Josiah and Everly Joy; Stephen Davidson, wife Hope, their children Aiden and Meredith; JD Tyree, wife Kacey, and daughter Aria; Logan Turner, and wife Hayley, He is also survived by Betty Davidson, the mother of their children; his sister Carol Regan and husband Mike, and niece Heather; his brother-in-law Joe Pugh and niece Dana; nephews Justin and Brandon; and his mother-in-law, Janice Pugh. He was preceded by his parents, Paul Joseph Davidson, Sr. and Irene Davidson; his father-in-law Joseph Pugh, Sr.; and grandson Henry Kelley. Paul was born in Houston, Texas. When he was four years old, the family moved to Norfolk, Virginia. He graduated from Norfolk Academy in 1973. Paul graduated from VA Tech in1978 and did his Master's work in Accounting and Information Technology. He retired from GA Pacific in Atlanta as the Director of Analysis in 2022. While living in Blacksburg, he fell in love with the mountains, and made the Blue Ridge area his home. A Celebration of Life service will be held in honor of Paul and his family on Sunday, February 12th, 2023 at 2:00 pm ET at Dwelling Place Christian Fellowship (3325 N. Franklin Street, Christiansburg, VA, 24073). The family requests that in lieu of gifts or flowers, a donation be made to a local animal shelter in honor of Paul and his beloved pups Evey and Milo.
---
Guest book
Jill Dove Teetor
Virginia Beach, VA
February 07, 2023
Dear Laura and family I am deeply sorry for your loss and will continue to keep you ALL in my thoughts and prayers!! May you find comfort with having your sweet memories God has allowed us to have and feel the love wrapped around you in all the moments ahead!!
---
Trina Adams
Roanoke, Va
February 08, 2023
Dearest Laura, There are few relationships I can say I have envied but your's was the exception. I remember meeting Paul at Valhalla Vineyard where we had our class reunion. He had this natural and immediate care for others that was endearing. He truly had the kindest eyes! I will never forget how at ease I felt in his presence. I am grateful for the 25 years you had with him. Dear friend, may these treasured memories sustain you through these difficult times. Much love to your entire family, Trina
---
Sign the Guest Book for Paul Joseph Davidson Jr.