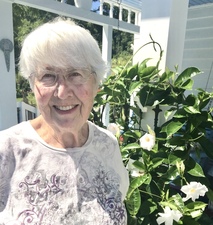 Georgia Phyllis Whitlock Shank
October 28, 1940 - February 25, 2023
Georgia Phyllis Whitlock Shank, 82, died February 25, 2023, at her home in Check. She was born on October 28, 1940 in Floyd County, the eldest daughter of George Denton and Mildred Wright Whitlock of the Stonewall area. She was valedictorian of the 1958 class at Check High School and then attended Berea College. With a BS degree in nursing, she began working as a registered nurse at Roanoke Memorial Hospital Rehabilitation Center in 1962, and in 1965 she joined the faculty of the hospital's School of Nursing. She married David W. Shank of Floyd County in 1960, and they had three children. The family moved to the Washington, DC, area in 1967, and Mrs. Shank worked at George Washington University Hospital until her husband, a federal government employee, was transferred overseas. They lived in Asia, Africa, Europe, and Arlington before he retired in 1992. Mrs. Shank worked as a registered nurse for the Department of State in Africa and as an editor and contracts officer for the federal government before retiring in 2000. Survivors include her husband; son Eric Ian Shank, Check; daughter and son-in-law Jennifer Elaine and Takayoshi Monma, Ashburn; son and daughter-in-law John Tonsa and Marie Ann Schweinberg Shank, Mesa, Az; grandchildren Cassidy Dawn Grubbs and spouse Matthew Munson, Roanoke; James Douglas and Hannah Lane Shank, Kingsport, Tn; Daichi Eli Monma, Charlottesville; Kathryn Ann Shank, Mesa, Az; Christopher Ethan Jaime, Mesa, Az; Jacob Christian Shank, Clarksburg, Md; Rowen Charlie Monma, Georgi Ethan Monma, and Elissa Rose Monma, Ashburn; sister Sheila Goff, Salem; sister and brother-in-law Debi and Joseph Heines, Alexandria; and multiple nieces and nephews. A memorial service will be held at a later date.
---
Guest book
Joe Heines III
Alexandria, VA
February 27, 2023
My sincerest condolences to David, Eric, Jenny, John, Sheila, Debi and their family.
---
ELTA Hollins Wilson
Floyd Va
February 27, 2023
Love and prayers for the family Phyllis was a classmate of mine! Had not been been in touch with her for a while! The last year we were on Facebook together! I enjoyed being with her and glad we got that little time! One of smartest people I ever knew! RIP
---
Kathryn Shank
Mesa, AZ
February 27, 2023
I am going to miss you. You will always be in my heart. I love you
---
Robert Collis
Roanoke
February 28, 2023
My sincerest condolences to the Shank family as well as the families of Sheila and Debi. I have fond memories of times at the old homeplace with Uncle Denton and Aunt Mildred and the Whitlock families. While everyone was spread out My mom Vera loved her brother Denton and sister-in-law Mildred and always spoke fondly of "Denton's Girls" Phyllis, Sheila and Debi. May God be with you all and comfort you as you mourn the loss. Robert Collis
---
Rick & Wanda Basham
Christiansburg, VA
March 02, 2023
We are so sorry for your loss. She was a very special lady to us.
---
Sign the Guest Book for Georgia Phyllis Whitlock Shank