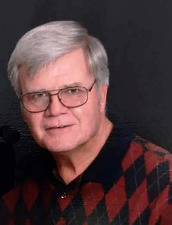 George William Bandy Jr.
May 08, 1944 - March 21, 2023
George William Bandy Jr -"Billy" of Copper Hill, with family by his side, slipped into eternity in the early morning hours of March 21, 2023. Billy was the oldest son of George William Bandy Sr. and Cynthia Lozelle (Edwards) Bandy of Botetourt. Born during WWII, on May 8, 1944, while his father was overseas in the European Theater as a Sargent in the US Army, 2nd Infantry Division. His daddy would land on Omaha Beach in the D-Day invasion while he was just a few weeks old. Billy would not get to "meet" his father until the summer of 1945 when he was over a year old. In 1946 Billy's parents purchased a home in the Starkey area in Roanoke County. Billy grew up attending Starkey Elementary, Ogden Middle School, and graduating in 1962 from Cave Spring High School. Childhood summers were spent with lots of visits to his great-uncle Kyle Patterson's farm in Bedford, Virginia. It was during these visits that Billy fell in love with every aspect of farm life, especially the dairy cattle. After graduating from high school Billy started his career with Norfolk Western Railroad in December of 1962 until his retirement from Norfolk Southern in June of 2004. During his career with the railroad, Billy held many titles from a clerk in the Mechanical Department to Marketing and made many lifelong friends with his "farm fresh" egg sales. In 1964 Billy was introduced to Nancy Hale Bennington by mutual friends while she worked at Graves Humphry's. They were married on October 28, 1966. From1964-1966 Billy completed basic training for the US Army at Fort Knox, Kentucky ending his active duty with the rank of Private 1st class. Billy then served in the US Army Reserves from 1966-1971. In the spring of 1971 Billy and Nancy moved from Bonsack, Virginia to Copper Hill. There they built what would be their family home "Bandy Hollow Dairy" in 1976. Billy had many successful "dairy years" winning various awards for milk production, quality and dairy management from Virginia & Maryland Milk Producers Cooperative. His love of farming and of animals lead to uncountable animals including chickens, goats, guineas, rabbits, pigs, cats and dogs that all kept the dairy cattle company. Billy was a member of Copper Hill Church of the Brethren, where he served several years as a Sunday School teacher and as Sunday School Superintendent. Billy was the proud father of two sons Noah Mason Bandy, and Andrew Hale Bandy. After his retirement Billy enjoyed his vegetable garden, his flowers, chickens, and riding the Mule (four-wheeler) to check on his cows while imparting his love of animals onto his two grandsons Mason and Ethan. Billy is survived by his wife Nancy and their two sons Noah Bandy and his wife Crystal, and Andrew Bandy. Two grandson's Mason and Ethan Bandy. A beloved brother, David Bandy and his wife Cindy. Nephew Joshua Bandy and his wife Kim. Niece Rachel Bandy Witt and husband Chase. A great nephew and a great niece and numerous cousins. Visitation will be at Gardner Funeral Home 202 East Oxford Street, Floyd, Virginia on Friday, March 24th from 2:00-4:00 and 6:00-8:00. The funeral will be held at the Gardner Funeral Home Chapel at 12:00 Saturday March 25th, with internment at the Cole Family Cemetery. In lieu of flowers, donations can be made to Copper Hill Church of the Brethren 8838 Floyd Highway North, Copper Hill, Virginia 24079
---
Guest book
Sharon Harris, DVM
Troutville, VA
March 23, 2023
I will always cherish the memories of coming to Billy's barn and home to help out an animal and visit. He will be greatly missed by the community. My deepest sympathy to you, Nancy, Andrew, Noah and families.
---
Kate & Don Wells
Versailles, KY
March 23, 2023
We wish to extend our condolences to the family and friends of Billy Bandy. May he rest in peace.
---
Steve and Rosalie Moran

March 23, 2023
---
Barry (Lump) Lumpkins
Roanoke,Va
March 25, 2023
Words cannot express the loss of your love one, but please know that our thoughts,and prayers are with you and your family. Barry & Rhonda Lumpkins
---
Kate & Don Wells
Versailles, KY
March 28, 2023
We wish to extend our condolences to the family and friends of Billy Bandy. May he rest in peace.
---
Sign the Guest Book for George William Bandy Jr.