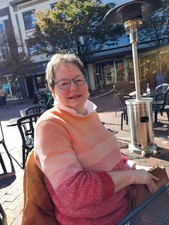 Jane Sink Hudgins
February 15, 1960 - March 23, 2023
Jane Sink Hudgins, 63, passed away suddenly in her home on Thursday, March 23, 2023. A celebration of her life will begin at 11:00 a.m., Saturday, April 15 at Germantown Brick Church of the Brethren in Rocky Mount, Virginia. The family will receive friends following the service at a meal in the Church's Fellowship Hall. She was born on February 15, 1960, and grew up in Franklin County, Virginia having been raised on a dairy farm. She treasured the memories and lessons she was blessed to have received in those early years. Left to cherish her memory are her husband of 25 years Jeff, and her son Andrew, and daughter Emily. She was preceded in death by her parents Denton (Pat) and Marlyn Sink. She is also survived by her four siblings: Teresa and Joe Agnew, Terry and Linda Sink, Ben and Jill Sink, and Joanna Sink. She also leaves behind several nieces and nephews and the cousins who grew up with her on the farm. She received a B.S. Degree from Roanoke College, and a M.B.A. from the University of Mary Washington. As a young woman she managed the Biology Lab at Ferrum College for a brief time before becoming a Pharmaceutical Representative for American Home Products. Jane's ability to ask for and listen to other people's stories served her well as a Pharmaceutical Representative for over sixteen years. Jane had a deep faith that was expressed in many wonderful and amazing ways to all her family and friends. She was passionate about nurturing, teaching, and serving Jeff, Andrew, and Emily. Jane Home-schooled Emily and Andrew from the time they were in 4th grade through their graduation. She was an amazing teacher to her children and sacrificed much for them throughout the years. She was very passionate about helping children, especially those facing difficulty, or who were disadvantaged. Throughout her life she gave time, money, and her voice to making a difference in their lives. Jane was raised in Germantown Brick Church of the Brethren where she came to faith. She served alongside her husband Jeff as he pastored Berea Baptist Church in Fredericksburg, Virginia; Westover Baptist Church in Richmond, Virginia; Heritage Baptist Church in Farmville, Virginia; and currently Floyd Baptist Church in Floyd, Virginia. Friends and family always looked forward to spending time with her and the kind words or amazing wisdom she would share. She had many joys in life and passed most of them on to her family, whether it be a love of cooking, cross stitching, reading a good book or simply enjoying great conversation alongside amazing cuisine. Jane was a woman of deep passion, who enjoyed life and lived to serve others. Her laughter, wisdom, acts of kindness and love will be deeply missed by all who knew and loved her. In lieu of flowers, the family requests memorial contributions be made to a charity of your choice.
---
Guest book
Kathy Wiles Nuckles
Sutherlin, VA
March 26, 2023
We are praying for you all!
---
Donna Briggs Grubbs
Leasburg, NC
March 27, 2023
Jeff, I am so saddened to hear the news of your wife's death. However, it's a glorious day for her; as believers we have a hope and a certainty that we will see her again. Take comfort in that fact. I know you are hurting and will hurt for days, weeks, and months to come. Learn to live with the love she left behind. Donna B. Grubbs
---
Crystal Allie

March 29, 2023
I'm so sorry for your loss. Jane was such a wonderful person. She will be greatly missed.
---
Mark & Glenda
Chester, VA
March 31, 2023
May the Lord of Peace surround and comfort you during this time of unspeakable loss. We are forever grateful to Jane for bringing such joy and love to Jeff's life, and for showing us the face of courage and resilience during her health crisis in Richmond. She leaves an indelible impression on our hearts and a rich legacy in Andrew and Emily. God bless you all.
---
Doris Boitnott
Castlewood,VA
April 07, 2023
Condolences to the family. I have fond memories of Jane growing up in the Brick Church community. Prayers to Teresa, Terry, Ben and Joanna and families. So sad to lose a sibling.
---
Sign the Guest Book for Jane Sink Hudgins