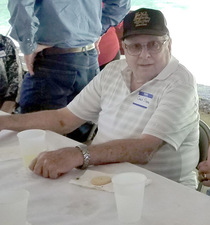 Eugene John "Coach" Sloane
December 01, 1932 - May 08, 2023
Eugene John "Coach" Sloane Sr., 90, of Manning, SC, formally of Floyd, VA, Passed away peacefully at home on May 8, 2023. He was born in Port Chester, NY to Philip and Fannie Sloane. He attended Oswego College, Oswego, NY and received his master's degree from the University of Virginia. He moved to Floyd in 1958 and began his teaching career at Floyd High School. He taught geography, health and Physical Education, but his love was for sports, most importantly baseball and basketball. He coached from 1958-1962 at Floyd High School and from 1962-1963 at Floyd County High School. He made friends with the players and the community that has lasted for 65 years. His record at Floyd was something to be proud of for a beginning coach, but his career had only begun. He coached and taught at Lexington High School from 1963-1970, Stonewall Jackson High School in Manassas, VA from 1970-1975 winning a district championship his first year there, when in the last seconds Bob Denig made the winning shot. Another player Chip Reklis was an outstanding player for the district. He also coached part time at Flint Hill Prep. in Oakton, VA with coach Stu Vetter. He founded and ran Bull Run Basketball camp for 51 years and taught many young people basketball skills. He retired from teaching and coaching and moved to Daytona Beach, Fl where he and his wife owned and operated Ev & Gene's International Coin Laundry for 16 years. After retiring a second time he moved to Manning SC where he made many new friends and recalled the many basketball stories that he always enjoyed telling so much. He also helped his wife manage Happy Boats, LLC (Boat Storage) on Lake Marion in SC until he passed. He was preceded in death by his parents Philip and Fannie Sloane, and his sister June Lemon. Gene is survived by his wife of 44 years, Evelyn Bawkey Sloane; Children, Lisa Paul of Middlesburg, VA, Dawn Morton (Frank) of Warrenton, VA, Tracy Sloane (Suzanne) of Harrisonburg, VA, Jay Sloane (Beth) of Manassas, VA, 12 grandchildren, 3 great grandchildren, his mother-in-law, Gladys Bawkey; Sister-in-law, Sandy Williams (Jerry), Niece, Ashleigh Udo (Kevin); nephews, Andrew Williams, Bill Lemon (Kathy), Patrick Lemon. He lived a long and happy life making many friends along the way! Funeral services will be held on Wednesday May 17, 2023 at 2pm at Gardner Funeral Home. There will be a visitation two hours prior from 12pm-2pm.
---
Guest book
Tarleton Family
North Carolina
May 09, 2023
---
Isabelle Brown
Manning, South Carolina
May 10, 2023
---
Paul Shelor
Greensboro, nc
May 11, 2023
Sorry to heard that Coach Sloane passed away. Very nice person
---
Dennis Young
Manassas, VA
May 12, 2023
Will miss you so much. Such a wonderful and joyful soul.
---
Joyce Reed
Floyd, Virginia
May 15, 2023
So sorry of Gene's passing. Larry talked of the good times and kindness the "Coach" shown to him while in high school. My thoughts and prayers to you. Will be in touch. Love
---
Kent Howard
Winchester,Virginia
May 15, 2023
Sorry to hear of his passing.
---
Richard Nester
Southern California
May 17, 2023
I knew him when I was an adolescent student and b-ball player growing up in Floyd. He always looked to me as if he had walked straight out of a movie into real life. I enjoy knowing he had such a long and impactful career as a coach.
---
Sign the Guest Book for Eugene John "Coach" Sloane