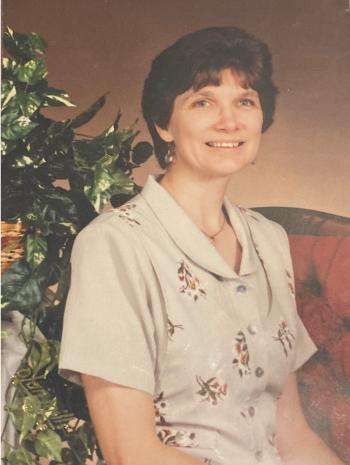 Barbara Jean "Forscutt" Thomas
May 26, 1950 - June 23, 2023
Barbara Jean "Forscutt" Thomas, 73, was born to Robert & Marie Forscutt on May 26, 1950 in Hackensack, NJ. She fell asleep in death on Friday, June 23, 2023. Barbara is survived by her husband of 53 years, Fred Thomas (Floyd, Va). Her children: Diana (Kris) Basham and Matthew (Jessica) Thomas both of Floyd, Va. Joy (Adam) Toney and Corinna (Rex) Ferguson both of Hendersonville, Nc. Andrew Thomas of Wytheville, Va. Grandchildren: Samantha (Josh) Laird of GA, Morgan Basham of TN, Kaleb Thomas of (Floyd), and Dylan Toney (NC). Jayde Gardner (Floyd). Siblings: Robert (Karen) Forscutt and Linda Sipes both of (NC), Judi Forscutt (VA), and Nancy (Edd) Seigh (NJ). As well as a multitude of Uncles, Aunts, Cousins, Nieces, Nephews and special friends. Barbara was preceded in death by her parents: Robert and Marie Forscutt, and her daughter, Melanie Creasey. When Barbara was 15 years old she dedicated her life to Jehovah and was baptized on May 29, 1965, the beginning of her faithful walk in her service to Jehovah. Barbara was known for her hospitality. One sister shared with us that "the very first time I came to the Kingdom Hall Barbara opened her arms wide to welcome me. I knew I had made the right choice." Many others have shared similar thoughts. One of her favorite songs for years said: "we thank you Jehovah, for our brotherhood, where we find companions both true and good." She did her best to live her life by this, giving of her time and resources whenever she saw a need. Barbara was also a loving mother, wife and caregiver. Not only did she do her best to care for her husband and six children but lovingly took in and cared for the children of a dear friend that had passed. What a comfort to know that Jehovah yearns to bring his loyal ones, like Barbara, back to life. We find reassurance in the words of Job who said, "You will call, and I will answer you. You will long for the work of your hands." (Job 14:15). We eagerly anticipate the time when Jehovah will bring his faithful servants' back to life. The family would like to give special thanks to the wonderful hospice team that guided us through this difficult time. You were so gentle and attentive to our every need, you gave our wife and mother the dignity she desired. We have had a steady stream of love and support from our many loving friends and family, thank you all so much! A Memorial talk will be given on Sunday, June 25, 2023 at 3 PM at the Kingdom Hall of Jehovah's Witnesses 1450 Floyd Hwy. S, Floyd, VA 24091 or join us via zoom: Meeting ID: 823 1365 3475 Passcode: 210852 In lieu of flowers please make donations to JW.ORG or Carilion Clinic Hospice.
---
Guest book
Daniel and Kim Rector
Dublin,Va.
June 24, 2023
I was very saddened when I heard that my Aunt Barbara had passed away. I know in my heart that she is not suffering anymore. She had done a lot for me and mom. She took good care of us and gave her unconditional love to us. I will always remember and never forget the many memories I had with her. Our Condolences to My Uncle Fred and his Children.
---
Ann Boyd
Indian Valley, VA
June 24, 2023
I worked with Barbara many years ago in the school system. For a time, our paths would cross at least once a day at work. I have often thought of how pleasant she was.
---
Rose Beaver
Floyd,va
June 24, 2023
Me and my family send our deepest sympathy to your family. Your family was a blessing to Maryann and Howard.Youre in our prayers.
---
David & Virginia Battaglia
Omaha, Nebraska
June 24, 2023
Our dear Fred and all your family, We were so very sorry to hear of your loss! Please know you have our warm thoughts and prayers. May Jehovah provide you with comfort and hope through this difficult time. We love you!
---
Janice S Brown
Greensboro,N.C.
June 24, 2023
Fred I am sorry to hear that this happened. I remember when I first met you Barbara and the family at the Christiansburg Congregation years ago, she was a wonderful person. Jehovah will have her in his memory.
---
Judy Manspile
Roanoke Va
June 25, 2023
We are so sad to hear about Barbara's passing. Your family is in our prayers. Looking forward to seeing our loved ones again very soon. Just around the corner.
---
Ruth Beaver Junger
Vinton,VA
June 26, 2023
I was so saddened to hear about your loss.Mrs Thomas was always so sweet to my mother and me,mother truly loved her. May the resurrection hope make this easier for you all.
---
Sign the Guest Book for Barbara Jean "Forscutt" Thomas